OCPD arrest 37 in buy-bust drug operation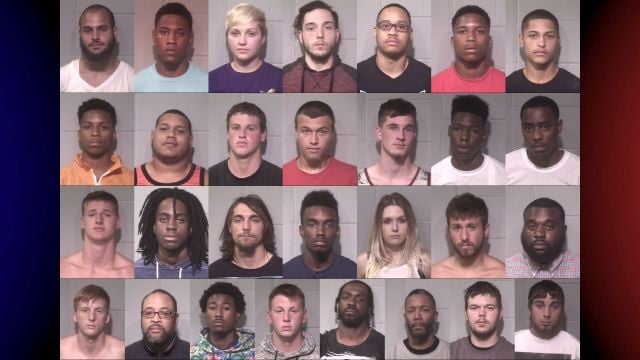 A local beach town says they have wrapped up an undercover operation, with 37 arrests.
The Ocean City Police Department's Criminal Investigation Division's Narcotics Unit says during the month of June, they held a buy-bust operation, during which they did 23 drug transactions, and arrested 37 drug distribution arrests. Investigators say during the operation detectives seized numerous drugs including marijuana, cocaine, and other fake controlled dangerous substance, along with four weapons and nearly $3,000 in cash.
The OCPD says they had help from the OCPD Special Enforcement Unit, Major Crimes Unit and Patrol Division, along with Worcester County Sheriff's Office Criminal Enforcement Team, which consists of members of the Worcester County Sheriff's Office and Maryland State Police.
On Monday, the Worcester County Sheriff's Office announced that they had charged 17 people in an undercover heroin and cocaine operation.
List of those arrested – 6 juveniles not listed:
| | | | | | |
| --- | --- | --- | --- | --- | --- |
| DATE | NAME | AGE | HOMETOWN | MISDOMENER/FELONY | CHARGE |
| 5/23/2015 | Everett, Toyaus Sego | 41 | Reisterstown, MD | Misd | Concealed Deadly Weapon |
| 5/24/2015 | Hagy, Brandon Kyler | 21 | Fredrick, MD | Felony | Distribution  |
| 5/25/2015 | Holyfield, Travis Matthew | 23 | Salisbury, MD | Felony | Distribution |
| 5/25/2015 | Houser, Aubrey Dawn | 19 | Salisbury, MD | Felony | Distribution |
| 6/5/2015 | Addison, John Kuduo-Sam  | 18 | Germantown, MD | Mis | Replica Handgun |
| 6/5/2015 | Cropper, Robert Lee  | 46 | Berlin, MD | Felony | Distribution |
| 6/5/2015 | Lewis, Roderick Ray  | 19 | Idlewylde, MD | Felony | Distribution  |
| 6/5/2015 | Shiplett, Madison Lynn | 19 | Glenarm, MD | Felony | Possession w/ Intent to Distribute  |
| 6/5/2015 | White, William Louis  | 19 | Baltimore, MD | Felony | Conspiracy  |
| 6/6/2015 | Downs, Floyd  William | 19 | Lusby, MD | Felony | Distribution |
| 6/6/2015 | Garner, Darius Tyler | 19 | Prince Frederick, MD | Felony | Distribution  |
| 6/6/2015 | Gray, Zahkey Jahsummaar** NO PHOTO | 19 | Montgomery Village, MD | Felony | Distribution |
| 6/10/2015 | Cianchetta, Joshua Grant | 23 | Baltimore, MD | Misd | Disorderly |
| 6/11/2015 | Belizairo, Jabari Anthony | 18 | Baltimore, MD | Felony | Distribution |
| 6/11/2015 | Franz, Dylan Jacob  | 18 | Havre de Grace, MD | Felony  | Distribution  |
| 6/11/2015 | Patillo, Davaun Tykeh  | 18 | Baltimore, MD | Felony | Distribution |
| 6/11/2015 | Patillo,Dajuan Xavier  | 18 | Baltimore, MD | Felony | Distribution  |
| 6/11/2015 | Patrick, Kyle Maurice  | 18 | Baltimore, MD | Felony | Distribution |
| 6/11/2015 | Perez-Rivera, Alvis Omar | 23 | Temple, PA | Felony  | Warrant (Failure to appear for a concealed deadly weapon case) |
| 6/11/2015 | Rodriguez, Diego Alexander | 19 | Reading, PA | Felony | Distribution |
| 6/11/2015 | Vines, James Earl  | 22 | White Plains, MD | Felony  | Distribution  |
| 6/12/2015 | Johnson, Michael Dominique | 30 | Baltimore, MD | Felony  | Distribution  |
| 6/12/2015 | Kelly, Brandon Marquel | 21 | Clinton, MD | Felony | Distribution  |
| 6/12/2015 | Palmerino, Ricci Bryant | 19 | Baltimore, MD | Felony | Distribution |
| 6/13/2015 | Crist Jr. Scott Michael | 18 | Marrysville, PA | Felony  | Distribution  |
| 6/13/2015 | Heming, Drew Charles | 19 | Loyal Hanna, PA | Felony | Distibution |
| 6/13/2015 | Mundy, Amir Dasean | 18 | Enola, PA | Felony  | Distribution  |
| 6/19/2015 | Garnett, Torrey Cornell | 39 | Odenton, MD | Felony | Distribution |
| 6/19/2015 | Greene, Jared Austin-Fisher | 18 | Manheim, PA | Felony | Distribution |
| 6/25/2015 | Colston-Lawson, Michael Brandon | 23 | Frederick, MD | Felony | Distribution |