New brew master in town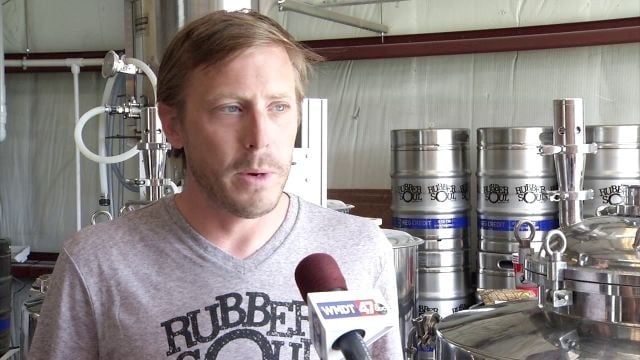 You've probably heard of Dogfish head brewery, but the name Rubber Sole probably doesn't ring a bell. That's because they just opened up shop here in Salisbury and brought a pretty important piece of Dogfish with them, Jesse Prall.
Prall is one of the most modest people you'll ever meet and possibly one of the most talented as well.
He's been brewing beer for 16 years and has spent the better part of 10 years at Dogfish Head, but he walked away from big name beer two years ago.
"What I was starting to miss was the intimacy of knowing the people that actually drink the beer," Prall said.
The other part of the equation was that it allowed him to do something he's always wanted to do, open his own brewery.
"I think as a brewer you always have that – I want to open up my own brewery at some point – and I think the time was just right," Prall told 47 ABC.
The time was 2013 Prall and two friends from their hometown of Steelton, Pa. got together to realize their dreams for running their own business.
At first Prall was a little unsure, but after one night home brewing he knew he had made the right choice.
"My wife looked at me and kind of was like are you alright and I was like I'm a little nervous," Prall said. "But it was like riding bike – as soon as that water hit those malts and the smell and the hops, that's kind of truly what made me say said yup this is what I want to do."
With Prall on board as the master brewer, the only thing left was to pick a location. Prall and his team picked Salisbury because of the rapid growth the city is experiencing, the location and the direction the city is headed in.  
"Well there's a revitalization process going on here in Salisbury, there's great traffic in routes here through the beach and we wanted to be one part of the revitalization of Salisbury," said co-owner Frank Hrestak, who also left his job to open Rubber Soul.
Now that the brewery has opened its doors for tasting and limited sales, locals say they like their style and more importantly they like their beer.
"Just the culture of being here and how it's set up is pretty nice," said Michael Delotte, a Salisbury native who stopped in to check out the new brewery and tried a few beers. "It's just got a good hops to it, it's really good it's clean it's smooth – original."
Currently Rubber Soul is only open for tastings and can and growler sales, but they say they'll soon be offering full service for their full line of great tasting brews.