Former police chief claims racism in firing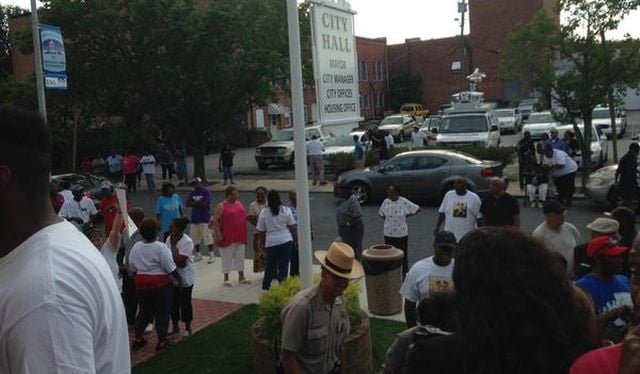 For over two weeks the people of Pocomoke City awaited an answer from their elected officials as to why former Police Chief Kelvin Sewell was fired. Monday night citizens gathered at town hall where they expected to get that answer, but they left answerless and with a feeling racism played a hand in Sewell's termination.
Over Sewell's tenure as chief Pocomoke City's crime rate dropped according to residents. One city official said that Sewell had successfully rid the streets of most drug dealers and those who remained revered Sewell. Because of Sewell's successful track record those in the community say they are puzzled as to why he was fired and feel the council has left them in the dark.
According to Pocomoke City Mayor Bruce Morrison, pending litigation is the reason himself and the city council are barred from giving the elusive answer as to why Sewell was fired.
Despite the mayor and council being unable to comment, the community spoke freely Monday and said they believe racism played a role in Sewell's termination. According to a letter from Wiley Rein LLP that was read by Pastor Ronnie White at the meeting, Sewell claims he was subject to "racial discrimination and unlawful retaliation for protected conduct under federal civil rights law" and that his firm plans to pursue legal action on his behalf against the city.
The letter White read also claimed that the firm has "already documented numerous instance of a hostile work environment for African-American police officers" and referenced Title VII of the Civil Rights Act of 1964 which outlaws discrimination in employment.
According to Pastor James Jones of New Macedonia Baptist Church, he said he knows that Sewell was fired in-part because he refused to fire two African-American police officers that had filed Equal Employment Opportunity Commission complaints against the city.
Morrison disagrees race had anything to do with Sewell's firing and denies any racist behavior occurs on the city council.
"I feel there's not a race problem, this is not a race issue," Morrison said. "It's a problem that was a personnel issue that was brought to our attention. The city handled it the best way we could and that was our final decision."
Pocomoke City councilwoman Diane Downing disagreed during the meeting that Sewell's case was handled properly by the council. Downing said she did not agree with the Sewell's termination and was the only member of the council not to vote for his removal. Downing, the only African-American and longest serving councilmember, also revealed that her fellow councilmembers did not disclose information about Sewell to her at any point during this case.
Downing said she is unsure as to how or why her fellow councilmembers did not include her.
"I really can't answer that question I don't know – things happen and I'm sure has happened years down the road. I don't know why I wasn't privy to some things but that's the way it happened and I don't agree with it," Downing said.
Morrison declined to directly answer or confirm if Downing was not fully informed about the evidence against Sewell.
Going forward Morrison said the focus is on hiring a new police chief.
"The process right now is to try to hire a new chief, to put the search out there for a new chief right now – that's what we're going to get ready to do, start looking for a new chief," Morrison said.
The community left Monday's meeting asking for the reinstatement of Sewell. When 47 ABC asked if there was a possibility Sewell might be reinstated in the future, Morrison declined to comment.