Clouded by controversy: Tick-borne Diseases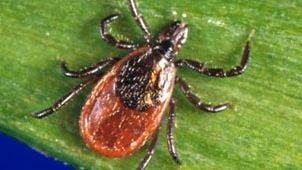 The Centers for Disease Control and Prevention estimates 300-thousand people across the United States are infected with Lyme Disease each year, making it the most common vector-borne disease in the country.
Many people have general knowledge of the infection. It's caused by a bacteria spread to humans, typically by the bite of a deer tick. Fully grown, the deer tick is similar in size to a sesame seed. But apparently it's most dangerous in it nymphal stage, when it's just about the size of a poppy seed.
Since these juvenile ticks are most active in late spring into summer, the month of May is now recognized across the U.S. as Lyme Disease Awareness Month.
To prevent a tick bite, health experts with the CDC recommend avoiding areas with tall grass and brush, using insect repellents with DEET, wearing clothing treated with permethrin, and showering soon after coming indoors.
But beyond that, for most uninfected people, Lyme Disease is a mysterious illness…clouded by a number of controversies. Which is why preventing tick-borne illnesses is much more complicated than just avoiding ticks.
Borellia Burgdorferi is the name of the bacteria which causes Lyme Disease.
Scientists and medical experts believe it's been around for thousands of years. But it was only discovered in the U.S. about 40 years ago, after an outbreak in Lyme, Connecticut.
Today, we now know the Delmarva Peninsula, like much of the Northeast, is endemic for Lyme disease. But this is considered a national health issue because of the many visitors to these endemic areas. And those affected by this disease tell 47 ABC Lead Investigative Reporter, Emily Lampa, they're adamant, and admittedly desperate, for action.
One of those Lyme sufferers is WNBA super star, Elena Delle Donne. She is currently in the middle of her third season with the Chicago Sky, but she made time to talk to 47 ABC.
"Lyme Disease has affected me in so many ways," explains Elena. "And if my story can somehow help somebody who's feeling really sick and not really sure what's going on, or direct them on the right path to getting healthy, then I want to do that."
Born and raised in Wilmington, Elena made her home state proud helping earn Ursuline high school 3 straight state titles and playing for the University of Delaware, becoming one of the school's most decorated athletes.
Her journey with Lyme Disease started the summer before her freshman year of college. It was in 2009 that Elena had sudden onset migranes, severe body aches, and extreme exhaustion.
She tested positive for Lyme Disease. But she never had the bulls eye rash. Only about 70 percent of infected people actually get the tell-tale mark at the site of the bite. Like many others, Elena's not sure how or when she got infected.
Left untreated, those with Lyme disease may develop arthritis or nervous system problems, bell's palsy (temporary paralysis on one side of the face), even heart problems, eye inflammation, hepatitis, along with severe fatigue.
Doctors treated Elena with antibiotics, and she appeared to be in the clear.
That is, until 2010, when in her sophomore year of college, in a matchup against Penn State, she asked to be taken out of the game.
"Basketball wasn't even a thought," Elena tells 47 ABC. "Like, there was no way, I was going to be able to play, or do anything physical, until I got healthy again. I couldn't even sit through a class because I was so exhausted. I remember even turning to my friend in a class and said, 'It's hurting me to breathe, right now'. I just felt so sick and just so tired and exhausted."
For a month Elena says she went from doctor to doctor looking for answers, "I went through a ridiculous amount of different tests and different doctors, all telling me I was fine, and there was nothing wrong with me. It was really difficult for me, not only feeling so sick and so terrible…but having people not believe that I was telling the truth about it."
Elena tells 47 ABC she suffers from Chronic Lyme Disease, what medical experts refer to as "Post-Treatment Lyme Disease Syndrome." It's characterized by lingering symptoms of fatigue, pain, or joint and muscle aches.
The Centers for Disease Control and Prevention estimate up to 20-percent of patients, formerly diagnosed and treated for Lyme disease, have this condition. And it doesn't discriminate when it comes to age, race, or gender.
14 year-old Kelsey Warren of Willards, Maryland was infected with Lyme Disease when she was eight, and says she has just recently experienced Chronic Lyme Symptoms, "I have really bad stomach pains and leg pains and stuff." Kelsey's mom, Julie, tells 47 ABC the freshman at Parkside High School in Salisbury had to opt for home schooling because of her severe pain and fatigue.
"It's a pain like none other," explains Julie Warren. "To see your child suffer and feel so helpless and so hopeless, it's really hard. I am so thankful for all of our friends and family, we have a huge support network, without them, I don't know where we'd be."
"I say it feels like you have the flu everyday," says Tina Kline of Bethany Beach, Delaware, who says her Lyme journey began in 1988, when she was a young adult. "It takes a big part of your life. You feel like when you've had it for a long time, that you learn how to cope."
Michelle Green of Townsend, Delaware, remembers being bitten by a tick last year. She tells 47 ABC she knew she had some sort of infection because she had reoccurring bouts of fever and body aches every few weeks. And now she suffers from something many Chronic Lyme patients call brain fog, "I would get very confused. There were some days that I could read the same thing over and over again and I had no idea what it said. I knew what each individual word was, but I couldn't put them together to comprehend what it was telling me."
Folks who have Chronic Lyme often don't show evidence of an active infection. And since medical experts and researchers still haven't nailed down the exact cause of PTLDS, this condition is considered highly controversial.
Some medical experts believe the lingering symptoms are the result of immune system and tissue damage from the initial Lyme Disease infection.
On the other side of the debate are doctors who believe Chronic Lyme is a persistent infection of the bacteria Borrelia Burgdorferi.
A third, even more disputed opinion exists, that pins the chronic pain and fatigue on improper antibiotic treatment of this disease.
But clinical studies, so far, have no definitive answers to defend any of these possibilities.
And then, there is the issue of co-infections.
Researchers have confirmed that deer ticks can be infected with more than one disease-causing microbe, such as: Bartonella, Anaplasma (formerly known as Ehrlichia), Borellia Miyamotoi, and a microscopic parasite called Babesia. And all of these infections can have similar symptoms to that of Lyme.
"I was told for 16 years that I had Fibromyalgia," says Marilyn Williams, Vice-President of the Lyme Disease Association of the Eastern Shore of Maryland, tells 47 ABC it was her dog's veterinarian who told her to get tested for Lyme. And when she did, she says she tested positive not just for Lyme but for bartonella and babesia, as well.
She says doctors treated her for 2 and half years with antibiotics and anti-malarial drugs, "I became completely symptom free, and I didn't have any symptoms of fibromyalgia again."
A 2006 study, published in "American Society for Microbiology" found that humans co-infected with both Lyme Disease and babesiosis appear to have more "intense, prolonged symptoms than those with Lyme Disease alone".
The researchers in this study also observed that the co-infections frequently resulted in "abnormal laboratory test results".
An even more recent study published in 2015, collected ticks from residential properties in 3 states, including Maryland. And it found a striking number of nymphal ticks – one-half to two-thirds infected with Babesia microti – were also co-infected with Lyme, which researchers say underscores the need for doctors to "consider co-infections" when patients come in saying they've been bitten by a tick.