UPDATE: Police Officer injured during head-on crash in Salisbury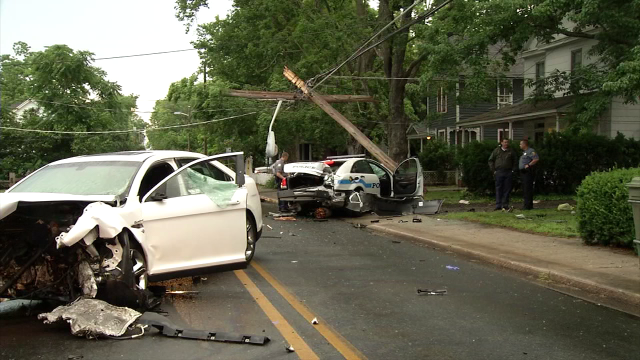 An early morning crash in Salisbury, which sent two people to the hospital, including a Police Officer, is under investigation.
Salisbury Police Chief, Barbara Duncan, tells 47 ABC that officers responded to a domestic violence dispute on the 400 block of Camden Avenue, just after 4:10 AM Tuesday morning. When officers arrived, they say they met with 27-year-old Michael Rayne, who had apparently been in an argument with his live-in girlfriend at the home. Rayne had also apparently broken the window on a neighbor's house.
During the investigation, Police say Rayne walked away from the responding officer, got into a white vehicle, and left. Then, while leaving, Rayne reportedly lost control of his vehicle, and crashed into a Salisbury Police cruiser, that was also responding to the domestic incident.
Both Rayne, and Salisbury Police Officer Zachary Converse, were rushed from the scene by Salisbury Emergency Medical Services to Peninsula Regional Medical Center, but due to the severity of their injuries, were both later transferred to R. Adams Cowley Shock Trauma Center in Baltimore.
Law enforcement tells 47ABC, that they are investigating to see if alcohol was a contributing factor to the crash. The Wicomico County Sheriff's Office Crash Reconstruction Team is now reportedly investigating the crash, and is working on reconstructing and determining fault. Camden Avenue was closed for several hours for the initial investigation, and to repair utility poles that were brought down during the crash.
Salisbury Police say this accident is still under investigation and charges against Rayne are pending. Anyone with information about this incident is asked to contact the Salisbury Police Department 410-548-3165 or Crime Solvers 410-548-1776.