Lower Regional Shore Summit takes place in Salisbury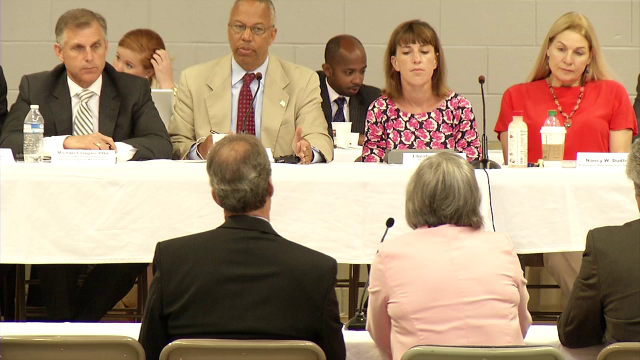 Heroin and Opioid abuse and addiction.
It's an issue that Governor Larry Hogan has referred to as an epidemic and one that his task force is now looking to end.
Today, officials across the state met in Salisbury to figure out ways to do just that.
"Heroin right now is very plentiful." Said Wicomico County Sheriff Mike Lewis.
Plentiful may be putting it lightly following 887 heroin and opioid overdose related deaths last year in Maryland.
That's why the State's heroin and opioid emergency task force, led by Lt. Governor Boyd Rutherford spoke to county representatives across the eastern shore Wednesday.
"This challenge associated with heroin and prescription opioid is throughout the state, and that includes the communities here on the lower shore." Said Rutherford.
Requests were made and ideas cultivated.
But a main topic brought up during the Lower Regional Shore Summit was collaboration between police and health departments to provide the proper treatment for victims of addiction and collaboration between law enforcement to keep heroin out of the area.
According to Wicomico County Sheriff Mike Lewis a large majority of the heroin making it's way to the shore is coming from the north through Route 13 and Route 50.
Something that he feels could be stopped with the right coordination.
"We all know the bulk of our heroin in this area is coming from Philadelphia, it's coming from New Jersey, it's coming from New York. It's also coming from Wilmington Delaware." And "We need to have a collaborative effort not only between Maryland law enforcement, but Delaware law enforcement to tighten down on the main arteries coming into and through our area." Said Sheriff Lewis.
But it's not just about reactionary measures, Lieutenant Governor Rutherford tells 47 ABC that preventative measures like education and early intervention could be the key to a drug free community in the future, saying, "education is significant." and "we want to hit the young people and younger people before they start to experiment particularly with prescription medications but also with marijuana and alcohol."
Task force member, Dr. Michael Finegan, argues that a big part of the problem lies within the treatment of those suffering from abuse.
A system that he says is now undergoing a much needed transition.
Dr. Finegan said, "we're modifying our programs, treatment evidence and informed treatments, cognitive therapy for substance abuse, motivational interviewing, where we are re-enforcing, integrating multi-generational support."
Giving Marylanders who need it better support than ever before.
Lieutenant Governor Rutherford says that an interim report will be released in August before a final report is submitted to Governor Hogan in December.
In a 2014 Maryland Department of Health and Mental Hygiene report on drug and alcohol-related deaths, 86% of all overdose deaths involved opioids.
That was a 21% increase in overdose deaths compared to 2013, according to the Governor's Office.
Here is a list of officials that were in attendance at the Summit:
Caroline County Commissioner President Larry Porter
Caroline County State's Attorney Jonathan Newell
Dorchester County State's Attorney William Jones
Somerset County Commissioner President Randy Laird
Somerset County State's Attorney Daniel Powell
Talbot County Council President Corey Pack
Talbot County Sheriff Joe Gamble
Wicomico County Executive Bob Culver
Wicomico County Sheriff Mike Lewis
Worcester County Commissioner President Jim Bunting Jr.
Worcester County Police Sergeant Nate Passwaters