SU Planning for the Future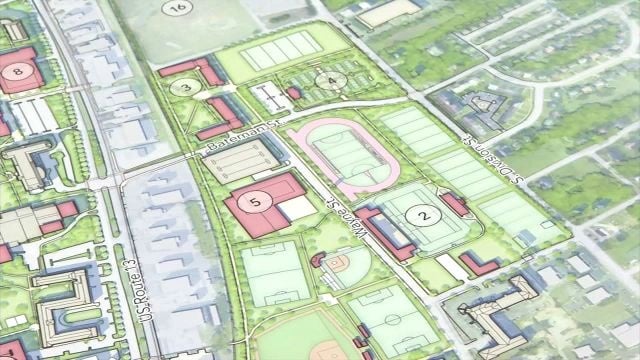 The Salisbury University's Facilities Master Plan revealed new projects that are broken down in phases for the future. Phase one includes work on the East Campus, located between South Division Street and Route 13. Some of the other projects will be renovations on the current Maggs Physical Activities Center.
You might have even noticed construction right on the campus off of Route 13. That will be the new Academic Commons Building that is still underway. This four story tall building is set to be completed this time next year. It will hold a library and meeting spaces, among other amenities.
Dr.Shannon, who is the Faculty Senate President and also a Math Professor says she is "really looking forward to the academic commons that will finally be a faculty gathering space."
Phase two holds plans for new residence halls and academic buildings and even more expansion across the university.
Erick Beikheimer, The Associate Vice President of Facility and Capital Management for Salisbury Univeristy, says "The phases helps guide our priorities and makes sure everyone understands what we need right now and what our current needs are."
SU is home to over 8,700 students and faculty. Officials say the student population will be growing with new facilities added over the years.Something the Seagulls can expect for Spring 2016 is the new stadium that will seat 5,000 fans.
Beikheimer says that the stadium is funded from auxiliary funds which are funds that generated internally from student fees.
Another goal is to create a unified feeling between the East and Main side of the campus, by creating what officials call a University District that crosses Route 13. These renovations would include making both sides of the campus look the same from landscaping to building styles and creating more pedestrian and bike paths. School officials say safety is a priority.
Beikheimer says it is important to make sure that folks who are driving up and down Route 13 are aware that the university is there and that there are heavy traffic points there.
For the distant future of the University, 47ABC was told of a Phase 3, being 10 years and beyond. This phase would include even more resident halls and academic buildings.
As for the New Academic Commons Building, it will be the tallest academic building on the campus and feature 48 Carillon Bells. Salisbury University will be the only State University in Maryland with this grand instrument.