NASCAR's best prepare for Dover's "Monster Mile"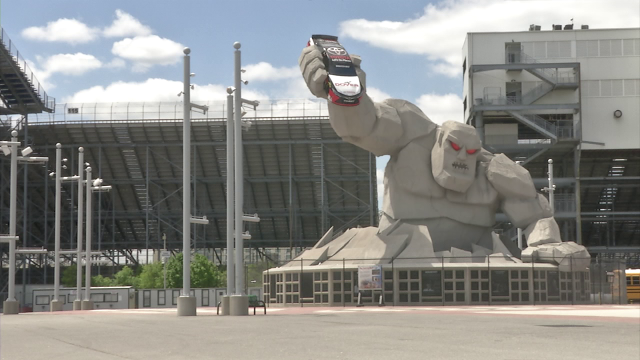 While some NASCAR drivers find the monster mile difficult to master…
"This is one of the racetracks you get done and you go, I'm shot." Said Joey Logano.
Others like Jimmie Johnson feel right at home.
Saying, "It just fits."
As Dover's Monster Mile gets set to welcome NASCAR's best back to Delaware in just under three weeks, drivers made their way to the Dover International Speedway to spin
their wheels and prepare for one of the toughest tracks in the NASCAR Sprint Cup Series.
"It's a long race, there's a lot going on. You can't afford to make mistakes and it's one of those racetracks that to me as a driver you feel like you're going fast." Said Logano.
Sitting third in the Nascar Sprint Cup Standings is Jimmie Johnson, who is the track's record holder in all-time wins with nine.
If Johnson makes another trip to victory lane following the next race at the Monster Mile, he will make history again, joining Richard Petty, Daryl Waltrip, David Pearson, and Dale Earnhardt Sr. as one of five drivers to win at a single track 10 or more times.
Johnson described his comfort with the track, saying, "The place has always just been so unique and different for me and the intensity required to make a lap around here, it's just fun." and "There's certain tracks that just fit a guy's style and this one fits my style."
But given Johnson's history of dominance in Dover doesn't guarantee anything.
The monster mile is notorious for being a nightmare for drivers given its size and surface, which is made from concrete.
Forcing some drivers like Joey Logano to make the most of every single practice lap.
"You have more time to really take in what you're changing, go over the data a little bit more, and have more time than an hour and a half of practice."
Off the track, one topic that is sure to be talked about, Kurt Busch racing in Dover for the first time since he faced domestic abuse allegations during last year's Triple-A 400.
An interesting story on the track however, David Ragan manning the number 55 car for Michael Waltrip Racing.
Following the temporary leave of Brain Vickers for health reasons Ragan is set to fill-in, putting him on his third team within just one year.
Ragan spoke on finally having some consistency after a crazy year, "I'm glad everything's settling down." and "I feel like I've got a home and I know where I'm going to be for a while and we got a lot of hard work in front of us."
At the end of the day, regardless of who feels comfortable, who finds it challenging, and who is racing, the monster mile will be there.
Waiting to feast on any driver's potential mistakes.
The action this year at the monster mile doesn't end with the Fed Ex 400.
Drivers will make their way back to Dover to compete in the Sprint Cup challenger round in the Triple-A 400.
In that race last year, Jeff Gordon came away with the victory.
Denny Hamlin will be driving a specially designed Autism Speaks Fed Ex car.
On race day tune in to 47 ABC for highlights of the Fed Ex 400.