Modern medicine, selfless family, meet in kidney exchange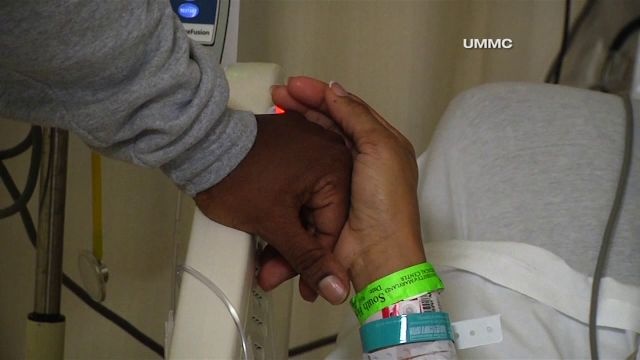 Edith Summers, Charles Muse, and LaTwanya Goslee are members of a remarkable family. When Charles needed a kidney 12 years ago, his mother Edith gave him hers. Eight years later, he needed another one, and his sister LaTwanya volunteered.
But when they found out they weren't a match, the family became a part of something else remarkable, one of the largest paired kidney exchanges ever.
"When we have a pair that has an incompatibility between them either because of antibodies or because of blood type, we take the two patients, the donor and the recipient, and we put them into the paired exchange program," explains Dr. David Leeser, Chief of Kidney & Pancreas Transplants at the University of Maryland Medical Center.
It means Charles got his new kidney from a stranger who matched well with him, and LaTwanya donated hers to a stranger who matched well.
"That person has a heart because he saved somebody's life that he doesn't even know. So, he's another angel," Charles says of his anonymous donor.
If donors like LaTwanya are angels, then there's a choir 35-strong associated with this surgery alone. This kidney exchange, or chain, consisted of 70 total patients, pairs of donors and recipients.
It's an effective way of matching willing participants when they might not match a loved one directly. But 12 years ago, when Charles needed his first transplant, the program did not exist at the University of Maryland Medical Center.
But mom was there.
"My son was in need so I just wanted to make sure that he still was here, he was still alive. So I donated my kidney to him," Edith says matter-of-factly.
Another one of Charles' angels. That kidney served him well for 8 years. When he needed another one, it was a family understanding that LaTwanya would step up, and she did, but they were no longer a match so they signed consent forms for the kidney chain.
"I think the thing that's amazing about it is that these chains are like dominoes. And if one domino is removed, the chain falls apart, things don't work," says Dr. Leeser.
Things did work. LaTwanya's surgery went well — so well in fact that the surgeon says blood loss was too small to measure because it was a newer, less invasive procedure, through LaTwanya's belly button.
"I mean I would have done it the old way, but I'm certainly thankful for the new innovation," says LaTwanya.
The innovations aren't slowing down. Dr. Leeser says exchange programs are growing, and the larger the pool of donors, the better the chances, not just of finding a match, but a high-quality match, leading to better kidney performance.
"In the long run we might see that actually these paired kidney exchanges do better than many straight living donor transplants," says Dr. Leeser.
Charles doesn't know much about the person who gave him his kidney, other than that it was a man.
LaTwanya's was removed and immediately packaged for pickup by a courier who whisked the gift of life away to an unknown recipient in Pittsburgh.
LaTwanya says it's hard to believe that as a Baltimore Ravens fan she was a match for someone in the land of the rival Steelers.
"I always joke that if they're Steelers fans, when they wake up they're going to wake up, bleeding purple!"
Charles' procedure was in early March, LaTwanya's March 24th. They're both recovering and doing well.