Green Tosses One-Hitter; Laurel Downs Mardela In Extra Innings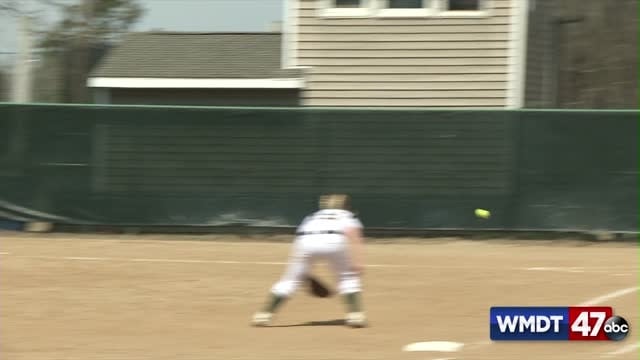 At the Spring Softball Tournament at Mardela High School on Thursday, the Laurel softball team pulled out two victories to move to 4-0 for the season, but the more impressive feat was through senior pitcher Regan Green. 
Pitching a perfect game with 19 strikeouts to hand James M. Bennett its first loss of the season in a 9-0 decision, Green followed up with a one-hit eight-inning game with 18 strikeouts to take the 1-0 victory over the Warriors. For the day, she pitched 15 complete innings with 37 strikeouts, giving up just one hit and walking none. 
Seeing a scoreless game through the regulation seven innings, the international rule of placing a runner on second base to start extra innings came into effect, and the Bulldogs took complete advantage of it.
Moving the second-base runner to third on a bunt, which was successfully hit by Lexie Ullman to get to first base, left runners on the corners. With no outs, Susie Ryan decided to bunt as well, this time a throwing error by Mardela's Kasey Goshern brought home the winning run. 
In the bottom of the eighth, Green sat them down in order with two being strikeouts. 
Mardela continued its day in the tournament playing Sussex Tech. The Warriors follow with a game next Tuesday against Parkside at 4 p.m. Laurel will take on Delmar next Thursday at 12 p.m., for its next game.