Failed prescribed burn to blame for Vienna fire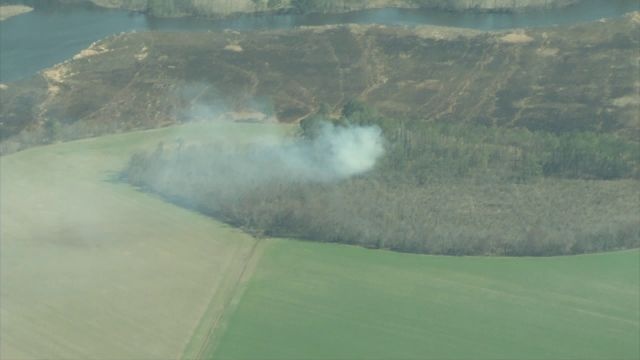 Fire across Delmarva.
On Monday, the peninsula saw 4 fires including one that wreaked havoc in a Vienna marsh after a fire-containment procedure went awry.
Smoke rises in Vienna Monday afternoon from a fire that was set on purpose.
Chris Robertson with the Maryland Department of Natural Resources commented on the failed prescribed burn, saying, "The land owner here was trying to burn, to do a controlled burn of his woodland, and with the high winds and low relative humidity the fire jumped his control lines and escaped into his adjacent woodland."
It started around 12:30 PM and took 20 fire companies 4 hours to contain.
"This is not common for prescribed burns. Most prescribed burns are done safely and effectively." Said Robertson.
Typically Forest Services are the ones doing them.
It's an effort to burn off built up oxygen and excess brush to prevent wildfires.
In this case however we're told the property owner took it upon himself and failed to secure his control lines.
Control lines are barriers where the fire is supposed to stop a perimeter either dug up into loose dirt or treated with chemicals.
But if lines are not made correctly a controlled burn can get out of control quickly especially in the right conditions.
Robertson says, "Low relative humidities, high winds, warmer temperatures, the fuels have been pretty dry, we haven't had a lot of rain in the last week or so."
Damage to the woodlands Monday was minimal no injuries were reported.
In order to gain clearance for a prescribed burn a written Prescribed Burn Plan must be submitted to the Forest Service for approval.
Now that was not the only brush fire today on Delmarva.
A fire sparked in Parsonsburg in the area of Johnson and Wango Roads.
Officials say that the fire was under control and no injuries were reported.
In Queen Anne's County, 47 ABC learned that a burn barrel in a backyard was to blame for a brush fire off of Route 50 in Kent Narrows.
No injuries reported.