DE Air Nat'l Guard C-130's fly together again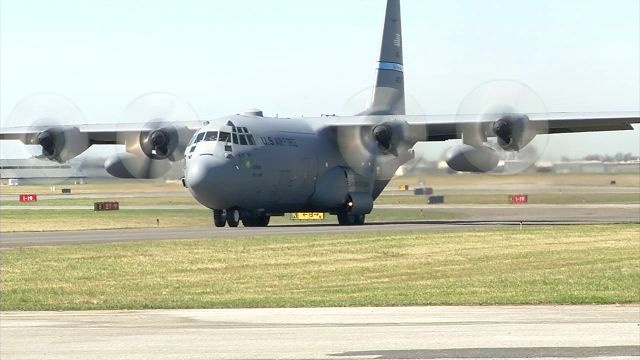 Six C-130 Cargo planes flying together, out of the Delaware Air National Guard base.
It's their largest formation since 2003 when the aircraft were a world away in Iraq.
"We've had various world commitments throughout the last ten years and it's an oddity to have all of our planes on station on our base at one time. And "it's not a very common occurance that one of our planes isn't dispersed somewhere." Says Colonel Mike Feeley, the wing commander of the 166th Airlift Wing with the Delaware Air National Guard.
During Operation Iraqi Freedom, the planes carried troops and supplies from Southwest Asia to Iraq to US bases in need.
The C-130's are ideal for these types of missions because they carry the cargo, but they're not bulky and slow.
Colonel Feeley said, "We're a smaller plane that can avoid threats, missiles, things of that nature and and deliver cargo to the smaller operating bases in the theatre. Afghanistan and Iraq, wherever in the world we need it."
Sunday was a training exercise.
The 166th Airlift Wing took off for Fort Indianatown Gap in Harrisburg Pennsylvania, where they performed a cargo airdrop.
They then turned back for Cape Henlopen before breaking toward Cape May New Jersey.
While their training is taking place in the states, guard members are preparing for global missions.
"We train to the same standards as the active duty." And "We've been to Africa for the Ebola outbreak, we've been to South America for natural disasters, we've been pretty much all over the world." Said Col. Feeley.
Until their next mission they're back at base and in the sky getting ready for action.
Colonel Feeley stressed 47 ABC that the occasion would not have been possible without a complete effort from all 1,200 members of the Delaware Air National Guard and that their next mission will most likely be returning to Southwest Asia.