Three arrested after four month long drug investigation in Rehoboth Beach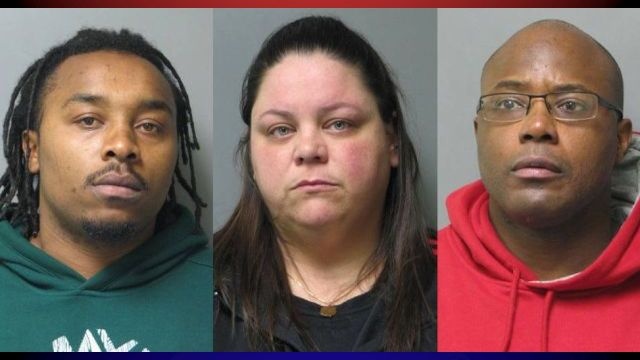 A four month long investigation into the sale of illegal drugs from a home in Rehoboth Beach, has wrapped up with three arrests.
Delaware State Police say on Monday, around 7:30 AM, the Sussex County Drug Task Force, along with the Sussex County Governor's Task Force and DSP Special Operations Response Team, searched a home on Spruce Road, in the Pine Valley Mobile Home Park in Rehoboth.
During the search of the home, 27-year-old Djuan Sheppard, 38-year-old Karen Reale, and 43-year-old David Harris, all of Rehoboth Beach, were taken into custody. Police say during the search, the found 220 bags of heroin, totaling 3.3 grams, and 1.6 grams of cocaine. In Sheppard's car, investigators also apparently found a .380 caliber handgun, than had been reported stolen following a burglary on Sweetbriar Road in Lewes, back in October 2014.
47 ABC spoke with Pine Valley resident and board member Fred Mahs who said, "I knew months ago, I mean cars in and out of there all day and night oh yeah very obvious."
Mahs also tells 47 ABC, "I hate to see it happen and we try to keep an eye on things around here. I mean look at the drug situation Delaware what the heroin capital of the world? And the federal government can't stop it how can we stop it?"
While some residents of Pine Valley Mobile homes say that they are not surprised about the drug bust one resident across the street says he does not feel any less safe living here.
Rehoboth Beach resident Chad Ackland tells 47 ABC, "Actually not at all. I've been living in this area for almost ten years and you know I think the biggest thing is local police in this area have been great and any response I've had any issue that anybody In this areas had they've been fantastic so no, quite the opposite in fact I applaud them for the work they've done here."
All three suspects face a long list of charges.
Sheppard was charged with possession with intent to deliver heroin, possession with intent to deliver cocaine, possession of a firearm by a person prohibited, possession of a controlled substance – heroin, receiving stolen firearm, and two counts of possession of drug paraphernalia. He is now being held at the Sussex Correctional Institution on $43,000 secured bond.
Reale was charged with maintaining a drug property, and released on $2,000 bond.
Harris, who was apparently hiding in a bathroom during the search, was charged with resisting arrest, and possession of drug paraphernalia. He was ordered to be held at SCI on $2,000 bond.