Experts offer electrical fire safety tips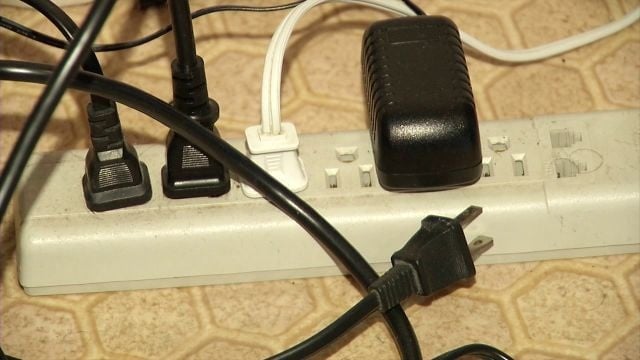 A blackened piece of plastic, once a functional power strip, was the cause of a fire at Kuhn's Jeweler's in Salisbury on Wednesday according to Salisbury Fire Department.
Electrician Kermath Simmons says malfunctioning power strips can be a danger if either the device is worn or too many appliances are plugged in.
"Electric heaters…electric heaters overload the circuits and that's when you're looking at a fire." Says Simmons.
In 2011, electrical failure or malfunction contributed to more than 64,000 structure fires across the country according to the National Fire Protection Association. Not every one of those fires started with a power strip but Simmons, who has been an electrician on the Eastern Shore for 32 years, says people need to be aware of how much power their strips are built to handle and how long they're built to last.
"You should read your manufacturers' specifications and if it says 'replace this power strip every two years' or every ten years, you should follow that." Explains Simmons.
Simmons says it's not just what you're plugging in, but what you're plugging in to that has to be in good shape.
"Anytime you got a worn, device…the electricity's actually jumping to this to work and it actually heats up and the hotter it gets after a while, it starts a fire." Says Simmons.
He says one sign of a worn-out outlet is a loose-fitting plug, meaning it could wiggle in the socket or fall out entirely when lightly touched.
He recommends calling an electrician if you notice this in your home or business.