UPDATE: NASCAR suspends Kurt Busch indefinitely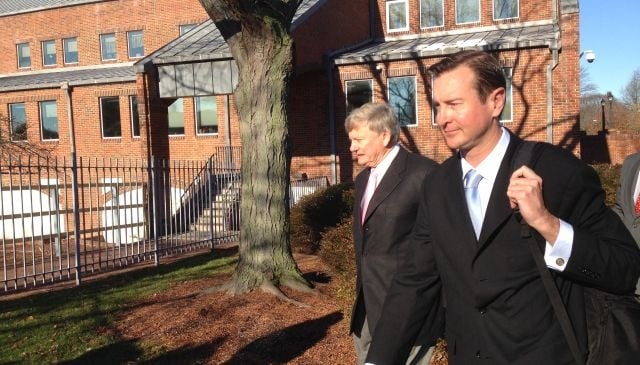 According to reports NASCAR has suspended Kurt Busch indefinitely for domestic violence just a few days before the Daytona 500.
This suspension came hours after a Delaware judge reportedly declared that Busch committed an act of domestic violence against ex-girlfriend Patricia Driscoll and there was a "substantial likelihood" of him doing it again.
Following the suspension, Busch's attorney Rusty Hardin released this statement:
"We are extremely disappointed that NASCAR has suspended Kurt Busch and we plan an immediate appeal. We assure everyone, including NASCAR, that this action against Mr. Busch will turn out to be a travesty of justice, apparent to all, as this story continues to unfold. We are confident that if the Commissioner agrees to hear newly available evidence that contradicts the testimony of Ms. Driscoll, he will be able understand the actions of that night as well as Ms. Driscoll's character and motivations and reconsider his judgment. He has already found that Ms. Driscoll lied under oath at least once. Our newly available evidence will make it clear that much more of her testimony was untruthful and as purposefully kept from the Commissioner by Ms. Driscoll's attempts to intimidate and threaten witnesses. It is important for everyone to remember that the Commissioner's report has to do with a civil, family law matter and no criminal charges have been filed against Mr. Busch. We ask everyone's patience as this case continues in the court of law and are confident that when the truth is known Mr. Busch will be fully vindicated and back in the driver's seat."
Prior to the suspension, Kent County Family Court Commissioner David Jones  released the written opinion behind a no-contact order against NASCAR driver Kurt Busch. He wrote that his decision is based off of evidence that Busch did assault his ex-girlfriend Patricia Driscoll back on September 26th. Jones writes that this finding of abuse and the fact that Driscoll is clearly fearful of personal contact with Busch was enough to issue a protective order.
Jones also noted that the argument that Busch and Driscoll live far from each other, that Busch has not attempted to make face-to-face contact, and that the two are officially "over," does not make the order unnecessary.
When referring to the alleged assault, Commissioner Jones calls it a situational domestic assault. He writes, "the stressors of the situation overwhelmed Busch's ability to cope and control his tendency to act out violently in response to stress and frustration, causing him to "snap" and assault Busch."
The protective order against Busch was issued on Monday. On Thursday, Busch's legal team filed a motion to re-open the court's order.
In a letter to both parties, Commissioner Jones writes, "the Court has decided to publish the opinion as scheduled, as review of the Court's reasoning may be of assistance to parties in defining their positions regarding the pending Motion to Reopen."