UPDATE: Driver cited after propane delivery truck crash in Greenwood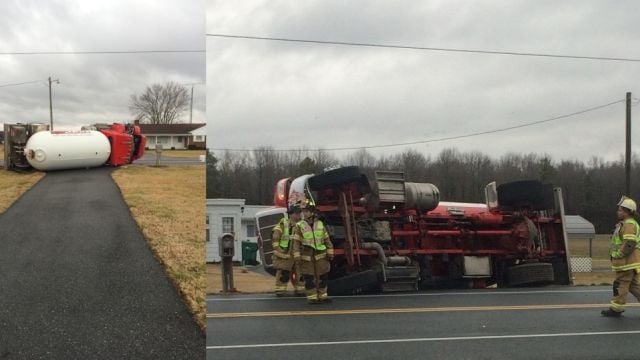 State Police say they are continuing to investigate an incident in which a propane delivery tank overturned in Greenwood.
Delaware State Police say around 8:10 AM, 62-year-old Ben Fulton, of Georgetown, was driving a 2011 Peterbilt Pep-Up propane truck westbound on Beach Highway, near Hunters Cove Road, when the right side wheels went off the shoulder pavement. Police say this is when Fulton overcorrected, causing the truck to overturn onto the passenger's side.
According to the report, Fulton was wearing a seat belt, and was taken from the scene to Nanticoke Memorial Hospital by EMS, where he was treated for non-life-threatening injuries, and released. He was later cited with inattentive driving.
Both the Westbound and Eastbound lanes of Beach Highway were closed near the crash for around three hours while hazmat teams from DelDOT and Pep-Up cleaned and contained the diesel fuel spill. Officials say there was not a propane leak.