Seaford officials unveil new city branding campaign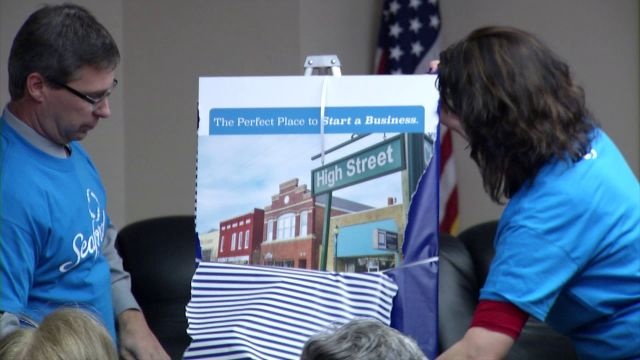 Seaford, once dubbed the nylon capital of the world, is hoping to move on from this old identity with their new slogan: "The perfect place to start".
Officials unveiled the city's new branding slogan on Monday. According to Mayor David Genshaw, the branding is a great fit for some of the changes the city is already currently going through.
"We're excited about Seaford being a perfect place to start, because there's so many things we're dealing with as far as new businesses, the new high school addition…" Says Genshaw. "There's so many things this fits in that we think we can use it as a marketing package to really launch Seaford."
The old nick-name is a tribute to the DuPont days, when the plant used to employ about 4,000 Delaware workers according to Mayor Genshaw. Although it is a cherished part of the town's history, Genshaw says it does not accurately represent Seaford today.
City officials say right now, one of the focuses is to foster economic development by being more marketable to other businesses and residents. Funding from the USDA Rural Development and the Delaware Economic Development Office jump-started this 12,000 dollar re-branding project. The grant was used to hire help from professional branding and marketing firm, Arnett Muldrow and Associates.
According to a partner of the consulting firm, Ben Muldrow, he and his team began working on the Seaford project in December.
"They had great pride in being the home of the nylon capital, but they also had a lot of difficulty with the fact that was an industry that declined and gone away." Says Muldrow. "The community didn't have a way to connect all of the positive things that were happening."
The consulting firm tied the booming success of DuPont to the city being located at the head of the Nanticoke River in order to come up with Seaford as the "perfect place to start".
47 ABC spoke to a number of Seaford residents during the unveiling. Debi Thomas and her husband, a retired small-business owner, have lived in Seaford for over 50 years. During the 1990's, Thomas' husband opened a mail-delivery service located on Sussex Highway before he retired in 2010. According to Thomas, she has seen a number of businesses come and go throughout the years.
"Unfortunately, you can still drive around Seaford and see things that have not been able to maintain or whatever." Says Thomas.
With the new branding, Thomas says she's excited to see what lies in store for Seaford and is hopeful new businesses will soon follow.
"It's really…I don't know, it's very hopeful that's things are now going to go and to see Seaford bloom." Explains Thomas.
According to a spokesperson from Seaford's economic development team. the next step is promote the slogan within the community. This includes banners, ad campaigns, and the official city letterhead. There is no word yet on how much the effort might cost.