Information sought on Salisbury hunting store theft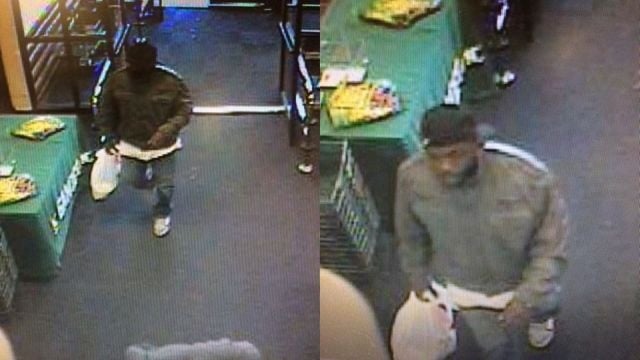 Police in Salisbury are hoping the release of surveillance photos of a theft suspect, will lead to an apprehension.
Salisbury Police say on January 19th, around 3:15 PM, Officers arrived at Gander Mountain on N. Salisbury Boulevard, after reports of a theft. Once on scene, employees reportedly told Officers that a man walked into the store carrying a white plastic bag, picked out a few items, and then left without paying.
Police say as the suspect was leaving the store, the security alarm went off, but when employees attempted to stop him, he jumped into a gold Cadillac passenger vehicle, and drove out of the parking lot onto southbound N. Salisbury Boulevard.
After looking at surveillance footage, Police reportedly found that the suspect had taken five game cameras from one isle, and two more cameras from a second.
Police describe the suspect as a 35-40-year-old man, last seen wearing a black baseball hat, gray sweatshirt, with a white t-shirt under his jacket, dark colored jeans, and white shoes. He apparently has a small amount of facial hair.
The investigation into this incident is reportedly on-going, and Police are asking anyone with information to contact them at Salisbury Police Department at 410-548-3165 or Crime Solvers 410-548-1776.