Hundreds flood to Annapolis to fight for developmentally disabled funding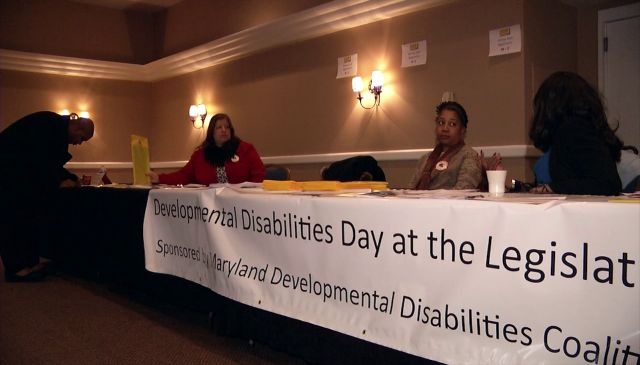 Marylanders with intellectual to developmental disabilities came together to fight for support in Annapolis on Thursday.
Many of them were at the hands of their direct support staff to show exactly what would happen if they can no longer afford those caretakers.
"We would not be able to pursue our dreams, we would not be able to really pursue American life," says Mat Rice, a self-advocate. "Without my direct supporters I don't think I'd be here today."
Maryland's fiscal year 2015 budget was set to allow a 4% increase in funding for the services. In addition, legislation passed in 2014 called for a 3.5% increase annually from 2016 to 2019.
The goal was to ensure that support staff receive pay that keeps pace with the planned increases in minimum wage over the next few years. However, Maryland's new budget proposal cuts all of that in half.
For United Needs and Disabilities in Salisbury, this means a cut of $400,000 in this year alone.
"Those reductions at the same time that minimum wage is increasing is going to make it very, very, challenging, especially in the next couple of years, to keep up with minimum wage," says Mike Dyer, CEO of United Needs and Disabilities. "Then we can't keep people, and we need special people to do what our direct care workers do."
"It's hard enough to get good people to care for someone with such great needs, let alone not pay them a raise they were promised," says Susan Blum, of Salisbury, Maryland, whose daughter has a severe developmental disability.
The cuts could not come at a worse time. Currently, there are 8,000 people on a waiting list for state services because there is not enough funding. Blum's daughter was on the list for 17 years. Her daughter's care was so great that it physically broke her down and she needed major surgery.
"There wasn't anywhere for her to go," says Blum. "It was a crisis in the greatest form for our family."
Kathy Knott, of Salisbury, is currently on that list for her 10-year-old niece, and has been for the past two years. She was forced to quit her job to make sure she can have round-the-clock care.
"I'm living in essential poverty, I'm at risk to lose my home, but her care comes first."
Advocates are pushing for nine million dollars just to restore funding for fiscal year 2016, plus an additional three million dollars to help those most in need on the waiting list. They individually met with legislators and attended a budget hearing with a subcommittee of the Senate Budget and Taxation Committee on Thursday.
"I'm begging, begging, just give these families a chance," says Knott. "We need to take care of these children."