Governor Larry Hogan gives first State of the State in Maryland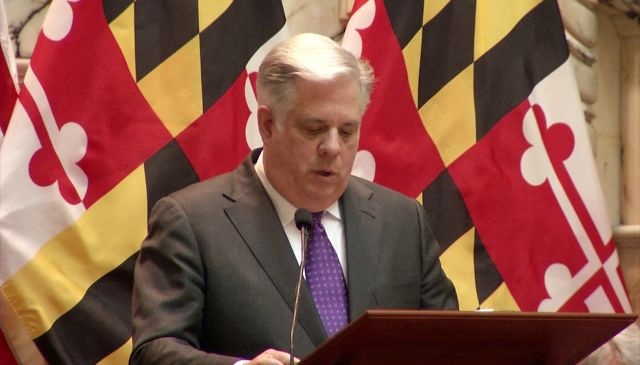 Governor Larry Hogan stood by his "open for business" slogan during Wednesday's State of the State address, directing much of the discussion towards taxes, jobs, and making Maryland a "business friendly" state moving forward.
"The people of Maryland simply cannot afford for us to continue on the same path," says Governor Larry Hogan (R-MD). "It's time for a new direction in Maryland."
His new direction includes a series of new legislation that Governor Hogan says his administration will submit in the near future. This includes a measure to repeal the rain tax, which forced certain counties to raise taxes for storm water management to fund Chesapeake Bay clean-up.
"This is about putting local control back in the hands of our jurisdictions, we don't need the state taking control of local issues," says Chris Adams, (R-37 B).
Governor Hogan also announced a tax exemption on the first $10,000 in property taxes for small businesses, along with legislation that would repeal income taxes on pension for retired military, police, fire, and first responders.
"We lose incredible talent by our military not being able to reside here in Maryland," says Senator Addie Eckardt (R-37). "I have two sons in the military and one has said he will stay in Virginia because of how the taxing structure is. I truly believe that would be a big economic boost to Maryland."
Governor Hogan also plans to submit legislation that would repeal the automatic increase for yearly gas taxes, which he argues was unfairly imposed without voters' knowledge.
"This is a repressive tax that hurts struggling Maryland families and our most vulnerable," says Governor Hogan. "It adds to the cost of almost everything."
A big milestone for the Eastern Shore, and the state as a whole, was also announced on Wednesday. Governor Hogan says there is a $25 million supplement for the fiscal year 2016 budget for road improvements. This is something that was not included in his most recent budget proposal.
According to Delegate Carl Anderton (R-38 B), this includes $12,000 for Delmar, $20,000 for Fruitland, and more than $100,000 for Salisbury.
"That's good for infrastructure, our streets, and our neighborhoods, we can do some extra with that."
Governor Hogan also discussed a plan for Chesapeake Bay clean-up that does not solely blame the farmers, but instead focuses on a combination of ideas from stakeholders. He says this discussion will not ignore upstream polluters or the sediment spilling over the Conowingo Dam.
"It was great to hear the Conowingo Dam brought up today, I was excited about that," says Delegate Anderton, who has fought hard against the proposed Phosphorus Management Tool coming to Maryland.
As anticipated, Governor Hogan also voiced his passion for education, including the encouragement of charter schools to open and operate in the state.
Recently, Governor Hogan has gotten criticism about the topic, after his budget proposal included a limited increase for schools.
"You always want to do more for your students but you have to live within your means at the same time, it's time to stop kicking the can down the road and borrowing from tomorrow for today," says Delegate Anderton.
Governor Hogan also made a point to address the state's heroin epidemic. He says he has tasked Lieutenant Governor Boyce Rutherford with bringing all of the stakeholders together, in order to come up with a plan to tackle the emergency. Once that plan is established, they will execute an executive order.
"That gets into a broader issue of how do we treat substance abuse and severe persistent mental illness, so I think that heroin task force is exactly where we need to be," says Delegate Eckardt.
Hogan's main focuses answered many promises he made during his campaign, but will require a lot more work than just a speech. However, legislators seem confident.
"We're going to make sure we get the job done," says Senator Mathias.