Delmar parents express relief and concern following redistricting delay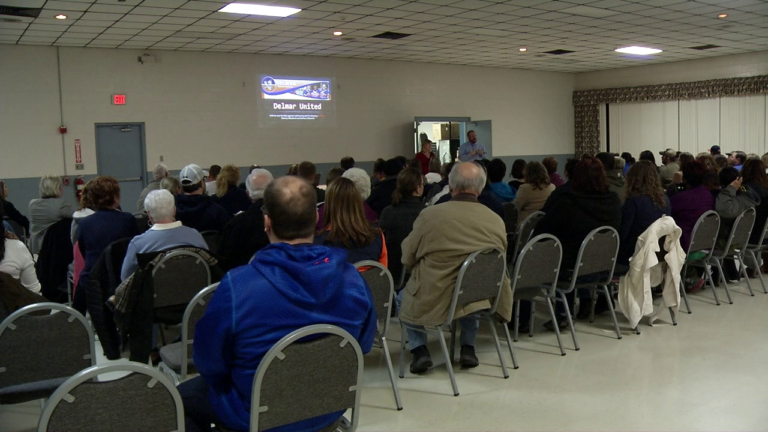 For many students in Wicomico County, going to school next year will mean walking the same hallways and seeing the same co-eds they currently do.
After parents came together opposing the idea of redistricting, it appears the Board of Education listened and acted quickly.
Not even 24 hours after parents passionately made their case to the Wicomico County Board of Education to avoid re-drawing school districts this year the Board did an about-face, and agreed no redistricting.
Many concerned parents expressed their relief Wednesday night at the Delmar Fire House. Kennedy Wilson was one of those parents. She said, "I think that was a wise decision and I think that it was a compassionate decision that we all appreciate from the bottom of our hearts."
Redistricting was especially unpopular among Delmar parents, who were concerned that new boundaries would move certain students and disrupt their lives.
"I'm just happy for these kids. It's the decision that they deserve, it's the decision that this community deserves and we just couldn't be happier about this decision." Said Nicole Scharf, a Delmar school student parent.
The decision means no re-districting, but only for the 2015-2016 school year. So it could be back up for discussion next year.
Scott Taylor, who is also a parent of several Delmar students, was at the forefront of fighting the redistricting. He said that the schools were apart of what made him want to live in Delmar to begin with. He said, "we definitely bought into the this district for the Delmar schools." and "it definitely concerns me, we definitely want to do what we can to stay in the district."
Before Wednesday's swift change of plans, the Board of Education said changing boundaries was a necessity because of overcrowding at some schools.
With the redistricting solution now off of the table, county officials say they will keep working with schools, families, and the community to come up with a reasonable alternative.
Wicomico County Executive Bob Culver weighed in on the decision to delay, which he felt was a smart one. "It's very for a child to have to grow up with a certain group of children and then be transferred to another area." Said Culver, he added "by doing this this way, waiting a year, giving it some time, we're doing the right thing."
The board of Education had planned 3 other meetings to get input, but those are now canceled in light of the decision.
The Delmar parents say they will keep trying to find ways to avoid redistricting down the line.
Click here to find more information on how you can help join the efforts from the Delmar parents.
You can find them on Facebook here.