Cities and towns across Delmarva dealing with snow fall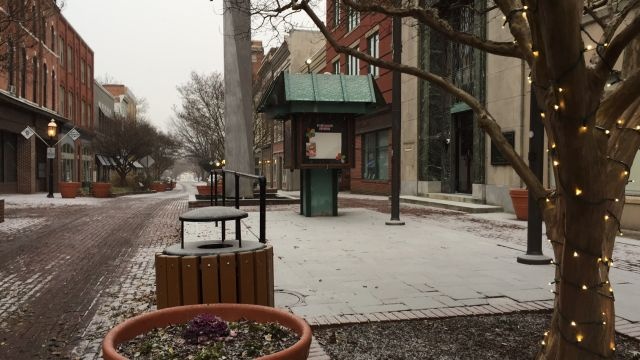 Road crews and law enforcement around Delmarva are working through the winter weather, and most are asking area residents to stay home.
In Maryland, Easton Police Department is asking residents to not park on the street this evening, if possible. This will give easier access for road crews to remove snow. The town has announced it is under Snow Emergency Phase 1. Authorities say the phase requires vehicles traveling the streets of Easton to be equipped with chains or tires permitted by the state. Officials ask when you shovel your driveway do not shovel snow back into the street.
Salisbury Officials say the city is prepared for the weather, and are monitoring the situation. Crews are apparently ready to plow and salt as necessary. The City is asking residents not to park on the seven emergency routes, as they will be cleared first. Residential street plowing will start when the snow accumulation totals more than four inches, and emergency routes are clear. Residents are also reminded that snow must be removed from sidewalks, for the entire length of property, within six hours of snowfall. A snow event non-emergency information hotline, 410-548-9452, has been opened to get assistance to citizens with special needs, those without power, and those individuals without means of sheltering. The hotline will be in service from 5:00 PM February 16, 2015 to 4:30 PM Tuesday, February 17, 2015.
The Maryland State Police Salisbury Barrack will enact a Snow Emergency Plan on Monday at 8:00 PM.  MSP requests that all motorist remove their vehicles from the road shoulders, and that driving should be limited to emergency situations and / or essential personnel only.   Police report the Snow Emergency Plan covers all United States Routes and Maryland Routes in Wicomico County, Maryland.  The Plan will remain in place until further notice.
The Snow Emergency for Somerset County, Maryland went into effect at 7 PM Monday, lasting until further notice. Police ask any motor vehicle operated on Snow Emergency Route for which an emergency has been declared to use chains or snow tires on both driving wheels. Police say a parking ban is imposed on all Snow Emergency Routes during a snow emergency.  Vehicle may be removed to ensure the safe flow of traffic on designated routes.  
February 16, 2015, Worcester County Emergency Services (WCES) advises all residents that a Snow Emergency Plan is now in effect for all of Worcester County.
In Delaware, the National Weather Service forecast is for 6-10 inches of snow in Sussex County, 4-6 inches of snow in Kent County, and 3-5 inches in New Castle.  The snow is expected to become moderate to heavy at times overnight, ending around noon on Tuesday. The Delaware Department of Transportation (DelDOT) has crews at work. 
DelDOT crews spent much of Monday making repairs to equipment and pre-positioning items in anticipation of a quick deployment when necessary. In Kent County, DelDOT crews will be ready to go around 9:00 PM, while Sussex County crews are monitoring conditions. Roads throughout the state were pre-treated with salt over the weekend, so there was no need to pre-treat again.
While snow is falling, Officials are reminding drivers to drive carefully as blowing snow could make for low visibility, and drifting snow.
Officials with the Town of Georgetown say on Monday, at 7:00 PM, the Town will be activating its snow emergency plan, putting parking restrictions on designated emergency routes, allowing more room for crews working to clear the streets.  
The designated snow emergency routes are:
· East Market Street
· West Market Street
· North Bedford Street
· South Bedford Street
· Bridgeville Road
· East Pine Street
· West Pine Street
· North Race Street
· South Race Street
· North Front Street
· South Front Street
· East Laurel Street – North Bedford Street to North Race Street
· West Laurel Street – North Bedford Street to North Front Street
· Edward Street – North Bedford Street to North Front Street
· West North Street – North Bedford Street to DuPont Highway (Route 113)
Anyone parked on these roadways may be towed. Town Officials are also reminding residents that sidewalks be cleared within eight hours after a snowfall. Residents with questions about the snow emergency can log on to the City's website for more information, or call the Town Hall at (302) 856-7391.
Delaware State Police say they are reminding residents that it is best to stay off the roads, but that they have Troopers ready to assist those in need.
There are several Code Purple shelters available to Delaware residents:
Kent County:
Calvary Baptist Church 410 Fulton Street Dover, DE
Christ Church 523 South State Street Dover, DE
Dover Interfaith Mission for Housing 684 Forest Street Dover, DE (302-736-3600)
Dover Presbyterian Church 54 S State Street Dover, DE (entrance is on Reed Street)
Milford Community Center 105 NE Front Street Milford, DE
Mt Carmel Church 117 N West Street Dover, DE
Shepherd's Place 1362 S Governor's Ave Dover, DE
Wesley UMC 209 S State Street Dover, DE (Building behind the Church on E North Street- purple lights in the window)
Wyoming UMC 216 Wyoming Mill Road Dover, DE 19901
Sussex County:
Eastern Sussex: Faith Methodist United Methodist Church supports the operation of Immanuel Emergency Shelter, 37439 Oyster House Road, Rehoboth Beach.
Western Sussex: Stein Highway Church of God, 425 E. Stein Highway, Seaford, and Gateway Fellowship, 8110 Cannon Road, Bridgeville.
Stay tuned to 47 ABC and 47ABC.com for the latest. Our meteorologists are continuing to track the storm, check out the Weather page for details. Closings and delays are continuing to come in, we'll keep them updated on our Closings page.