Broken pipe causes major flooding at Wicomico Youth & Civic Center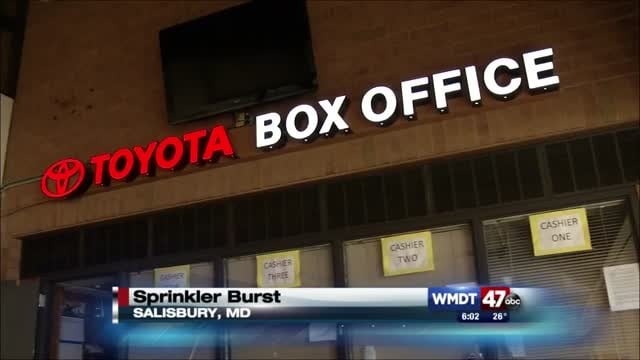 Aside from the messy roadways, it was an entirely different nightmare at the Wicomico County Civic Center Monday night.
According to County Executive, Bob Culver, a sprinkler pipe broke in the Box Office section and flooded for about two to three hours before it was detected. The water rose to about three to four inches, which reportedly flooded our the front lobby, several downstairs offices, and completely ruined the box offices.
Culver says they are still determining the cause of the flood, but they feel the weather was a factor.
The Civic Center was supposed to serve as a shelter on Monday night in the event that the county lost electricity. Culver says they made sure that Bennett High School was available as an option instead. In addition, the Salvation Army reportedly offered their services because of the flooding.
Culver says they have had crews cleaning up the flood through the night, including employees with the Civic Center. Their goal is to have the leak fixed on Wednesday and have the pipes tested to make sure there are no other breaks.
Culver says he hopes to have the Civic Center ready for the Better Living Expo and Fine Arts Show this weekend.