Milton traffic stop reportedly leads to recovery of $150k worth of heroin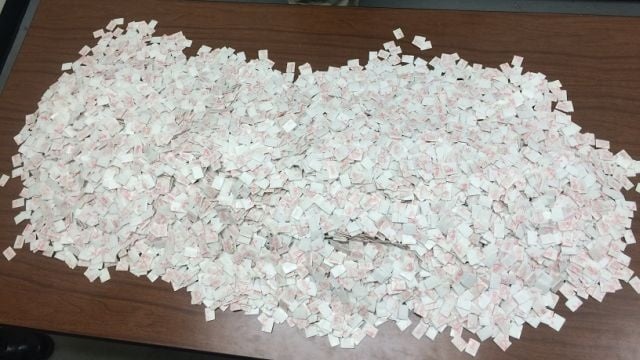 A New Jersey man is currently behind bars in Delaware, after a traffic stop reportedly led to the discovery of a large amount of heroin. Delaware State Police say on Tuesday, Troopers were holding a traffic initiative watching for speeders on Coastal Highway, near Beach Highway, just east of Milton.
Police say around 2:20 PM, a blue Nissan Altima sped by the Troopers on Route 1, so they pulled him over near Beach Highway. During the stop, Troopers say they smelled marijuana, and asked the driver, 32-year-old Davon Tucker, of Paterson, New Jersey and a 29-year-old female passenger about it. Tucker then apparently pulled a bag from the center console, and handed over more than 2.5 grams of the drug.
Troopers say they then had the occupants get out of the car, before they searched it. According to the report, in the trunk Troopers found a blue plastic bag filled with clear freezer bags stamped TROY 100, inside the freezer bags were smaller wax-paper bags with heroin inside, bundled together.
Police say they found a total of 14,994 bags, weighting 224.91 grams. The street value of the found heroin is reportedly estimated at around $150,000.
Tucker was arrested, and charged with possession of a controlled substance in a tier 5 quantity – heroin, possession with intent to deliver heroin, possession of marijuana with an aggravated factor, two counts of possession of drug paraphernalia, driving while suspended or revoked, and speeding. He is now being held at Sussex Correctional Institution on $122,601 cash bail.
The passenger was not charged in the case, and was released.