Mikulski discusses Labinal decison with executives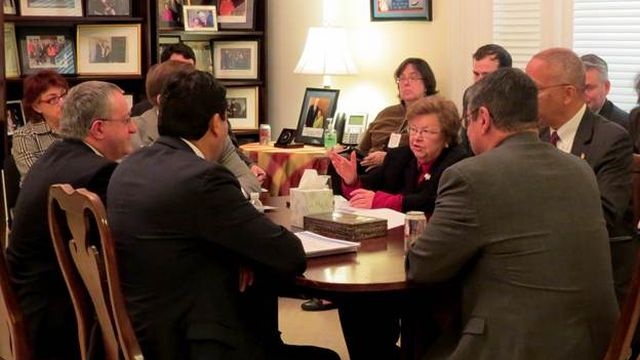 Sen. Barbara Mikulski (D-Md.) continued to fight to save jobs in Salisbury by meeting with Labinal executives and the Lieutenant Governor Tuesday.
Sen. Mikulski secured some commitments from the company to help Salisbury employees who are impacted by the decision to move the Salisbury plant to Denton, TX, in June 2016.
Sen. Mikulski joined Lieutenant Governor Boyd K. Rutherford, Safran North America President and CEO Peter Lengyel, CEO of Labinal Global Alain Saurent, President of Labinal North America Jorge Ortega and General Manager of Labinal Salisbury Tony Rodriguez, in talks that outlines potential ways to save jobs at the Salisbury location.
"Today I convened a meeting with Labinal's executive team to get to the bottom of what can be done to protect Salisbury workers," Senator Mikulski said. "The dedicated men and women who work day-in and day-out on the factory floor in Salisbury need answers about how their lives will be affected by Labinal's decision. I will continue to work Labinal leaders as they implement their plan. I want the workers in Salisbury and their families to know I'm on their side. I'll never stop fighting for them and their economic security."   
The Labinal leaders proposed several steps to assist workers in Salisbury:
1. Labinal will work with local government and business and development leaders to help identify a possible replacement to employ workers at the Salisbury facility.
2. Labinal will assign a dedicated company employee at the Salisbury facility to explore potential employment opportunities at other engineering employers in the area like Wallops Island Flight Facility and Dover Air Force Base for workers facing job loss
3. Labinal will develop an inventory of the skills of current Labinal Salisbury employees to establish compatibility with other employers in the area  
4. Labinal will work with local workforce partners to offer retraining for affected workers.
"I appreciate the participation of Lieutenant Governor Rutherford and the Hogan Administration and their willingness to use the resources of the State of Maryland to achieve these goals," Senator Mikulski said. "I look forward to working with them to save and protect jobs on the Eastern Shore."