Judge's decision on Kurt Busch PFA hearing at least 2 weeks away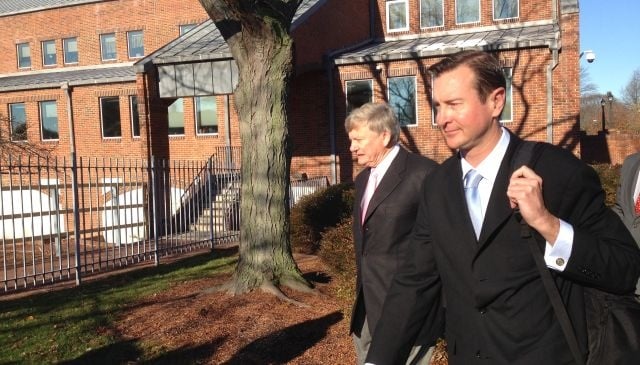 After four days, the hearing over a Protection from Abuse (PFA) order to keep NASCAR driver Kurt Busch away from his ex-girlfriend, Patricia Driscoll, came to a close.
Commissioner David Jones is giving both parties two weeks to submit written closing arguments. He will then issue a written opinion, along with a PFA, if that is what he ultimately decides.
With four days of conflicting testimony, it is still very unclear exactly what that decision will be.
Busch finished his testimony on Tuesday morning, once again bringing up Driscoll's work with the CIA as a mercenary. He testified that someone trained like her, who told him stories of killing people and sustaining serious injuries, would have never taken any physical abuse and would have instead taken him down.
"I'm just glad that the truth got told, and we'll wait on the Commissioner's decision," said Kurt Busch in a brief statement before leaving Dover on Tuesday.
Richard Sniffen, a music minister that performs at several NASCAR races a year, also took the stand on Tuesday. Over the past few years he became a friend and somewhat of a "counselor" to both Busch and Driscoll.
He testified that Driscoll came to him after Busch allegedly ended the relationship the weekend before the alleged assault incident, and the two talked at least daily throughout the week. On September 26th, Sniffen said Driscoll told him Busch pushed her and she hit her head.
On the first day of the hearing, Driscoll testified that Busch grabbed her by the neck and slammed her head against the wall three times.
Sniffen also testified that in conversations with Driscoll after the 26th, she said she was going to "destroy" Busch and "take him down."
"We know one thing, he never ever physically abused her and we're real comfortable that was made clear," says Rusty Hardin, Busch's attorney.
Detective Woods with the Dover Police Department Criminal Investigation Unit also testified on Tuesday. Driscoll's attorney, Carolyn McNeice called him to the stand.
Detective Woods testified that Busch told him he "gently cupped" Driscoll's cheeks on the night of September 26th and told her to leave. While doing so, Detective Woods testified that Busch said Driscoll did tap her head against the wall while he did this.
Busch never mentioned that in his original testimony.
McNeice said that she wanted the court to limit questioning with Detective Woods because of an agreement she made with the Attorney General's Office, who is handling the criminal investigation into the alleged assault on September 26th. Commissioner Jones said that McNeice could not request that to the court, but took a recess so Hardin could make sure his cross-examination would not affect the criminal investigation.
During that recess, Driscoll was crying and visibly upset. 47 ABC asked McNeice if Driscoll was upset because she felt that the criminal investigation was compromised.
"She didn't address that with me," said McNeice. "As a rebuttal witness, Detective Wood presented a version of the incident that was distinct from Mr. Busch's version and that was the benefit and the reason behind calling him."
McNeice also added that the PFA does not require Driscoll to be frightened of Busch.
"Certainly it's our position that the abuse occurred, we'll rely on the statue and the provisions and the protections that it can give us."
It is still unclear whether or not the Delaware Attorney General's office is taking the criminal investigation to trial.