Jan. 23 – 2nd Annual Women's Business Conference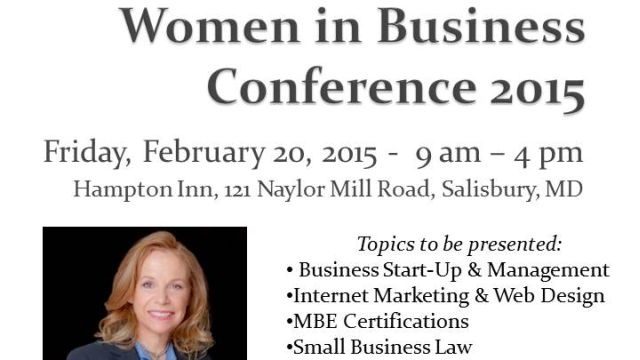 The Women's Business Center at Maryland Capital Enterprises, Inc.
(MCE) is hosting its second annual Women's Business Conference to allow women
entrepreneurs the opportunity to network and learn to start and/or grow their
businesses. Mitzi Perdue will headline the impressive list of speakers to
participate.
The conference will be held on Friday, February 20th, from 9 am to 4 pm at the
Hampton Inn in Salisbury. Registration is available online at
http://marylandcapital.org/content/2nd-annual-women-business-conference.
"We know women are looking for ways to either start or row their own
business, and we've put together an excellent group of speakers who cover a
variety of topics from marketing to legal tips that are practical for any future or
current business owner looking to learn," said Jennifer Currie, Director of the
Women's Business Center located at MCE in Salisbury.
The event will feature a keynote address by Mitzi Perdue, who just released
her latest book "Tough Man, Tender Chicken: Business and Life Lessons from
Frank Perdue."  A successful entrepreneur in her own right, Mitzi holds degrees
from Harvard University and George Washington University, and is an author,
artist, philanthropist and wife of the late poultry magnate Frank Perdue.
Two state officials will also speak – Rachel Howard and LaCheryl Jones. Howard
is State Director of the Women's Business Center Program and Public Information
Officer & Economic Development Specialist for the Small Business Administration
State Office ;She will discuss SBA's programs.  Jones is the Public Relations
Manager for the Office of Minority Business Enterprise in the Maryland
Department of Transportation. She will discuss different certifications businesses
can apply for, including: MBE, DBE, ACDBE, and SBE.
There will also be speakers from the Eastern Shore. speakers include
Vincent Gisriel from Sprout Creatives, a Website Design and Marketing firm, will
be discussing internet marketing and responsive web design. Kelly Drexel from
M&T Bank will discuss financial decision making. Sumathy Chandrashekar from
the Small Business Development Center, will discuss business start-ups and
management. And, Attorney Ann Shaw will discuss consumer protection law and
commercial law.
The conference fee is $40 which includes a networking luncheon, snacks, and
attendance for all the sessions. For more information, contact Richele Purnell at
the Women's Business Center (410) 546-1900.