Governor Martin O'Malley holds last press conference in office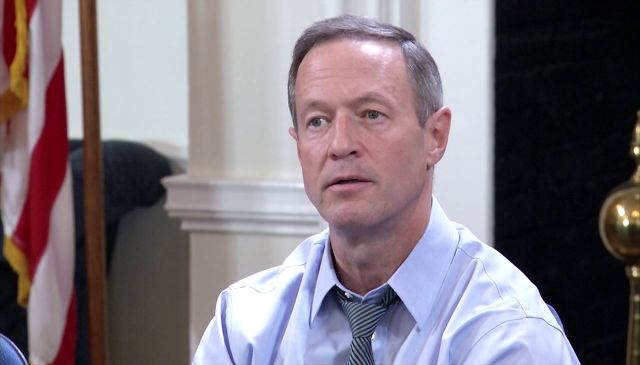 In just a few days, Governor Martin O'Malley (D-MD) will no longer be in office in Maryland.
However, the next time you see his name – it could be on a presidential ballot.
"That's something I'm seriously thinking about," says Governor O'Malley, in his final press conference with the media in Annapolis.
Governor O'Malley says he also will serve as a visiting professor with John Hopkins University. However, he avoided the session by talking about his future, by instead focusing on his accomplishments.
Among those, O'Malley repeatedly brought up the administration's efforts with job growth. He says it has been stronger in Maryland than in Virginia and Pennsylvania. In addition, Maryland's schools were ranked number one in the country for five years.
"Every decision we've made has been to strengthen and grow the middle class."
Governor O'Malley also points to strides in the budget, which is on the mind of all lawmakers for the current legislative session. He recently unveiled $400 million in cuts and transfers to balance out the budget, ahead of a 2016 budget, that is expected to fall short of estimated expenses by more than $700 million.
"I appreciate the incoming Governor thanking me for doing that," he says. "We have held our state to the smallest average annual spending increases of any administration of the last five."
However, the tougher decisions O'Malley would not directly answer, including allegations of voters electing Lieutenant Governor Anthony Brown because of O'Malley, and putting a Republican in office.
"Every candidate makes tactical decisions in their campaigns and I've made them in mine," he says. "If you say the sky is blue, they will say it's not its green."
O'Malley also did not address his recent decision to commute four death row sentences to life without parole.
However, he did answer a difficult question about his regrets. Yet out of more than seven years in office, he made them seem minimal.
"There were a number of things I wish we accomplished sooner than we had, there are some things where I wish we had made more progress than we did," he says. "You have your good days and you have your bad days."
Governor O'Malley will officially be out of office on Wednesday when Governor-Elect Larry Hogan will be sworn in. He says his very first plan is to move back to Baltimore with his family.