Picking the perfect Christmas tree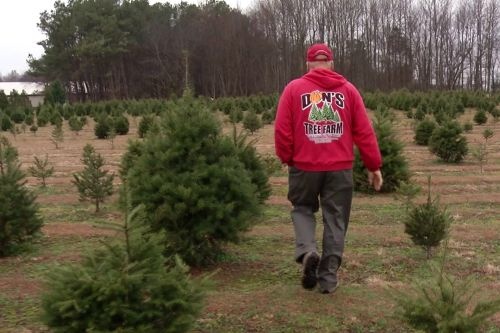 There are just two weekends left to get your trees before Christmas and local grower Don Hallowell says that now is the perfect time to pick one out!
"We've got an old saying, 'real people, real trees,'" says Hallowell.
Don Hallowell has been selling Christmas trees at Don's Tree Farm for six years now. With 5 different tree types to chose from, you can have whatever your heart, or nose,desires
For example, if you smell a Canaan Fir tree, you will have a citrus scent reminiscent of Florida! Balsam trees are the strongest scented that Hallowell sells, and has the classic Christmas smell. Not only do the fir trees smell great, Don says they'll last you well into the new year. This is not the case for all varieties.
"When you hear spruce, spruces don't last as long. You might only get 2-3 weeks and they start drying fast," says Hallowell.
However, many still love their long needles and soft feel.
"It's a family event. It's fun to do with the kids. You pick the tree you want, we cut the tree, bail it for you, put it in your car, you take it home. You're buying a fresh tree, whereas chain stores, you're buying a tree that could have been cut in October," says Hallowell.
So what happens to the leftovers trees that aren't bought by season's end?
"Hopefully there won't be many left over. If there is, they go to local goat farmers. They're supposed to be healthy. The goats will take all of the green off and leave just the wood," says Hallowell.
It's not too late to put up a tree. Don says he gets visitors as late as Christmas morning!
Don's Tree Farm is open every Friday, Saturday, and Sunday of the month.