Mayor responds to Salisbury protestors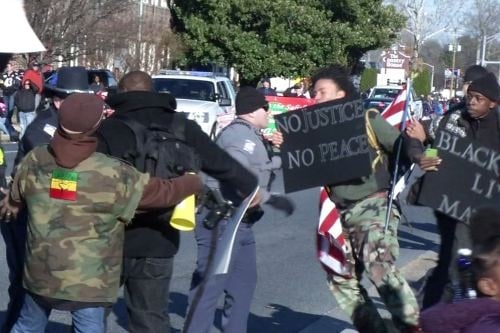 SALISBURY, Md.- Following
a protest, and outburst at the Salisbury Christmas Parade, many residents took
to social media sharing comments of dismay; saying they thought the parade was
not the proper place or time for a protest. However, organizers say their
demonstration worked, creating a discussion amongst community members of an
issue they say is too often swept under the rug.
Khalil Shabazz, one of organizers
of the protest says, "When police come inside our communities and murder us,
brutalize and harass us, they bring a disruption, they disrupt our normal order
of live. We thought it was necessary to disrupt the normal order of live for
everybody, so they could hear what's going on inside our community,"
The protest was made up of
community members in Salisbury and Baltimore civil rights activists from the
Ujima Peoples Progress Party. They say the whole point of the protest was to
bring awareness to law enforcement injustices, sparked by the killings of Eric
Garner and Michael Brown.
They believe what happened
in Ferguson could easily happen in Salisbury, they say the demographics of the
cities are rather parallel. Protestors say they want a community or civilian
review board. The board would be an independent city agency with subpoena
power. It's separate from the police department, but would allow community
members to be a part of any police misconduct investigation. This is similar to
the suggestion made by states attorney Matt Maciarello at a November press
conference. He supports the idea of an oversight panel, consisting of Wicomico
County citizens.
Salisbury Mayor Jim Ireton
says, "I've already said no to that, I've said that we will begin to put
cameras on every one of our officers."  
The Mayor says he plans to
enter the budget amendment for the cameras in January. He says he doesn't have
an interest in discussing protests that he believes are ploys to gain
attention. However, while he supports freedom of speech, he says Sunday's
protest infringed on a peaceful gathering of citizens.
Mayor Ireton goes on, "My
demands are that I get my Christmas parade back, and that we get to do it again
and we get to do it without interruption, my demands would be to the NAACP
locally to start addressing the issues right here."  
We reached out to the
President of the local chapter of the NAACP who declined to comment, saying she
was not present for Sunday's event. However last Friday, she did comment on the
suggested review board stating that she believes Police should not be investigating
themselves.