Juveniles & Airsoft Guns: A Growing Trend, Concern In Salisbury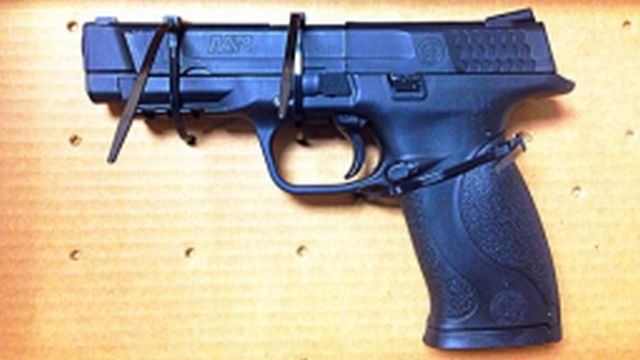 During an incident like a robbery, an airsoft-type replica handgun is essentially indistinguishable from a real handgun. Even police admit, if the orange cap is removed, or colored, it's almost impossible to tell the difference.
"They're carrying them around, they're using them to commit crimes, this is a huge problem not only for law enforcement but for these kids as well," says Chief Barbara Duncan of the Salisbury Police Department.
The alarming part for police, is the fact that kids, specifically, are using them.
According to reports, on Sunday, an 83-year-old man was beaten during a robbery by seven boys, all between 14 and 16-years-old, in the area of Smith Street and Monticello Avenue in Salisbury. The victim survived the attack, but with pain and minor lacerations to his body. Police say one of the suspects had an airsoft gun in his book bag.
Two days later, three juveniles were reportedly picked up by a Bailey's Taxi Driver in Fruitland. The juveniles asked to be dropped off on the 600 block of Smith Street. One of the suspects reportedly pushed the airsoft gun to the back of the driver's head. Police say he stopped the car, and the suspects assaulted him and went through his pockets. After the driver got away, the airsoft gun was found reportedly broken in half in his car.
"That is so dangerous for the juveniles to have something like that on the street," says Matt Maciarello, Wicomico County State's Attorney. "If they display it in a manner that is either threatening to a citizen or a police officer, it could definitely result in a tragedy."
It's a tragedy that happened just last month in Cleveland, Ohio, that has since gone viral. In the moments before Tamir Rice, 12, was fatally shot, police say he grabbed for an air-soft gun.
States Attorney Maciarello says, just like Rice did, kids will often remove the orange safety cap. In other cases, they may cover it with a black magic marker, or get the guns illegally.
"They're ripping them off, they're actually stealing them from your Walmart, your Gander Mountains," says Maciarello. "All of this crime is interrelated."
Chief Duncan says that kind of crime is not new to the Smith Street-area neighborhood. For that reason, police have numerous officers on foot and bikes in the area, also working with neighborhood leaders.
However, the best thing parents can do: keep these so-called "toy guns" out of the hands of kids.
"You need to take it away from them, because this is absolutely going to cause a tragedy on the streets of Salisbury and Wicomico County, no doubt."
Anyone with information about the Sunday or Tuesday's robbery in Salisbury should call 410-548-1776.