Delegation Addresses Eastern Shore Future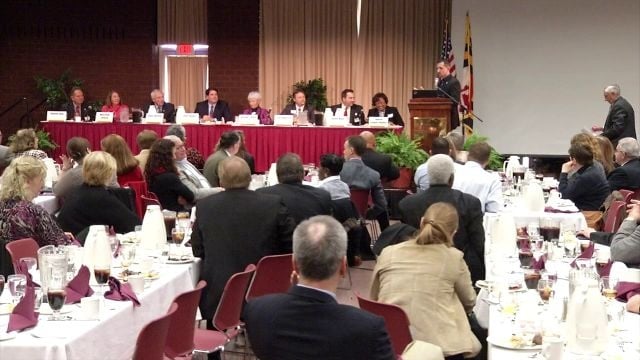 For both rookie and veteran members on the Eastern Shore delegation, excitement is just one thing they hope to bring to the Hogan administration.
Carl Anderton, Jr. defeated 28-year incumbent Norman for the District 38-B seat in the House of Delegates in November.
"The opportunity to create, keep, and expand jobs here on the Eastern Shore for our employers. We really need to get things back on track so we can provide the quality of life and opportunity to provide the quality of life that everyone wants and needs and deserves." Explains Anderton.
Elected officials will be heading to Annapolis on January 14th to officially open the session and awhile "boosting the economy" was a common theme *during* elections, it's not the only thing they're focused on.
Garnering a big win over democratic candidate Judy Davis, District 38-C delegate Mary Beth Carozza explains it's more than just investing in what the Eastern Shore is already known for.
"Obviously, tourism and farming are our two economic drivers. But we need to be doing more in the area of high tech." Says Carozza.
District 37-B delegate Chris Adams says he'd like to address environmental regulations that would keep farmers from using inexpensive forms of fertilizer, which could hurt more than it can help.
"I believe if you're from the Eastern Shore or Western Maryland where farming happens…nobody is happy with what the EPA is driving through the state of Maryland which is what is happening." Explains Adams.
There will be a changing of the guard. After years of chairing the Delegation, Addie Eckhardt will be leaving for the State Senate.
Eckhart tells 47 ABC, "because it's a session delegation, the group will pick a new chair, vice-chair, treasurer and secretary."
On the other side of the aisle, Democratic Senator Jim Mathias is remaining positive in the new Republican administration.
"It's our responsibility no matter what party affiliation, to work together…to work with the governor, and our work with our secretaries of the different agencies…to make sure we're going one thing everyday that's working effectively for the citizens of the Eastern Shore." Explains Mathias.
Delegate Carozza also tells 47 ABC that once sworn into the General Assembly, the Eastern Shore Delegation will meet once a week.