Stanley Steemer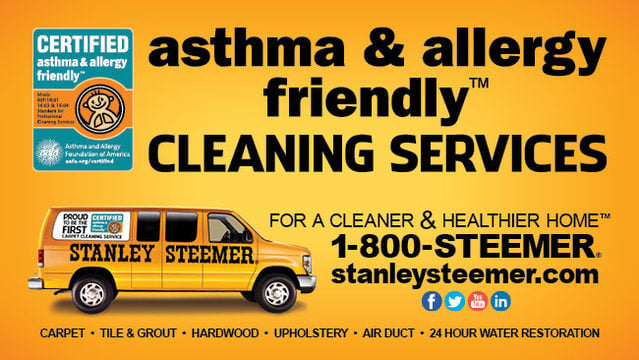 STANLEY STEEMER – NATIONWIDE COVERAGE – LOCALLY OWNED
At Stanley Steemer of Delmarva, we are not just another big named company.  We are your neighbors!  We live right here on the Eastern Shore, hire local folks and support our community just like any other small business around town BUT we have the backing of a company with more than six decades of experience in state-of-the-art carpet care.
Stanley Steemer's iconic yellow vans are a familiar sight in neighborhoods everywhere.  Stanley Steemer's carpet cleaning service is quick, convenient and hassle-free. Your home is back to normal in a flash. We even return the furniture to its original position.
Our professional deep cleaning services extend beyond carpet cleaning to furniture cleaning, tile and grout, hardwood, air ducts, and 24-hour emergency water restoration.  Did you know that according to the national Air Duct Cleaners Association (NADCA), the average six-room house collects 40 pounds of dirt, dust and allergens in its air ducts each year. That's a big problem, considering that 40,000 dust mites can thrive in only one ounce of dust.
Those little dust "bunnies" contain a host of unhealthy bacteria, fungi and mold. The EPA estimates indoor air can be two to five times more polluted than outdoor air. Even worse, the contaminated air circulates throughout your house every time the heating or cooling system kicks on.
Visit us on-line at www.stanleysteemer.com and schedule your FREE in-home evaluation, today!