Light of Literacy awards prep, tickets on sale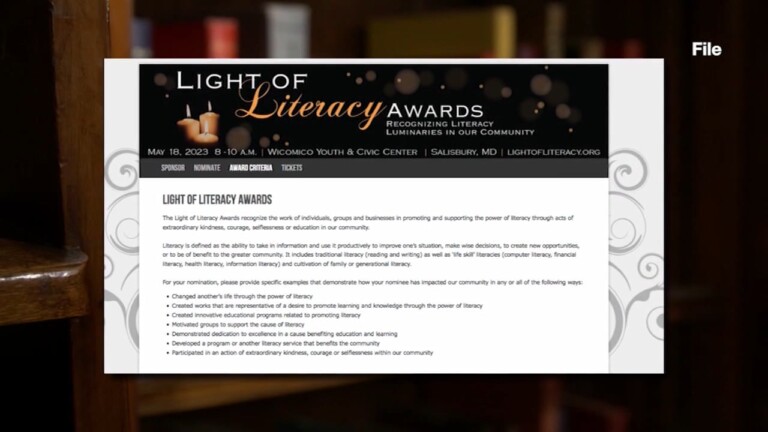 SALISBURY, Md. – For the 9th year, the Friends of the Library committee is teaming up with the Wicomico Public Library for the 'Light of Literacy,' awards, and the day is quickly approaching.
Light of Literacy recognizes the work of those in the community promoting and supporting the power of literacy through acts of kindness, courage, selflessness, or education; this year the focus is on digital literacy.
The friends of the library leaders committee are currently evaluating all the entries, to choose the awardees which the chairman, Farah Yahya says is a difficult task when they have so many people and organizations doing great work in the community. "We received such amazing nominations both for organizations and for individuals, we were touched by the depth and variety of the services which are provided in our community." She adds, "We found out about organizations who were helping kids do their homework online, who were providing kids with laptops, who were teaching them how to use them, and these are organizations nobody knows about they just kept on doing it and during COVID they were doing this work."
Regardless of who wins an award the library also uses this opportunity to partner with these individuals and organizations to better serve their community.
Seth Hershberger, library director says the Light of Literacy awards ceremony is essential in gathering the community to celebrate and learn from these groups and individuals. "We're just trying to support those folks that are helping anywhere they can or any way they can for people to have the skills they need to thrive in our world and we're just proud to be able to highlight that and show how it ties closely in with our mission." Hershberger adds, "The big day is coming, we're looking forward to the light of literacy this year , please visit our website visit any of our locations purchase a ticket and we'll see you at the light of literacy."
The award ceremony is open to the public and will be held on May 18th from 8 to 10 a.m. at the Wicomico Civic Center and tickets are on sale now. They can be purchased at event brite, in person at any of the Wicomico County Library branches, their bookstore, or the Light of Literacy website.