Bayhealth kicks off '80s retro campaign to promote colorectal screenings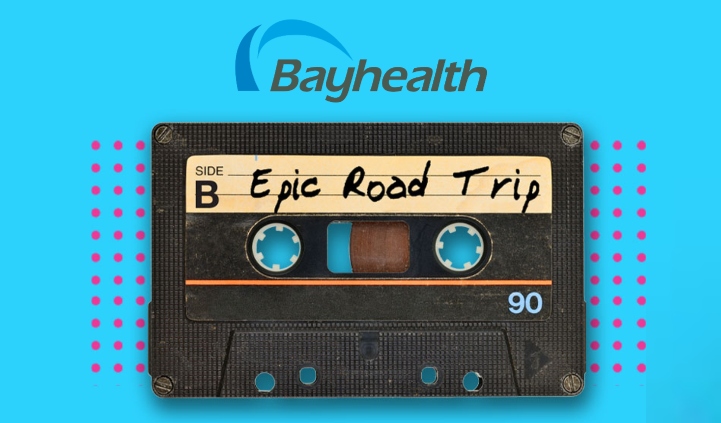 DOVER, Del. – If you remember making an "Epic Road Trip" cassette mix tape, then Bayhealth says it's probably time to schedule a colonoscopy.
Complete with a totally '80s vibe, Bayhealth launched a colorectal cancer awareness campaign to kick off Colorectal Cancer Awareness Month in March. The campaign is designed to encourage everyone age 45 and older to schedule an appointment for a colonoscopy.
Like Bayhealth's successful "Go Pink" campaign, which raises funds annually for breast cancer screenings through t-shirt sales, this campaign has a t-shirt fundraising component as well. Proceeds will benefit the Bayhealth Cancer Center and help fund colorectal screenings for the underserved population in our communities.
The t-shirts feature an '80s theme complete with neon colors and an "Epic Road Trip" cassette mix. A marketing strategy Bayhealth hopes will raise awareness to support a good cause and remind everyone to get screened.
"Everyone age 45 and older needs to be screened," said Bayhealth Colorectal Surgeon Assar Rather, MD, FASC. "It's important to understand we aren't screening for colorectal cancer; we're screening to prevent it. We're looking for small polyps or growths that could eventually become cancerous."
47 ABC News spoke with John Shevock, Bayhealth's Cancer Institute Executive Director and Senior Director of Operations of the Oncology Service Line, who tells us the t-shirts are only $20 and will help ensure those in the community who can't afford routine screenings are connected with care.
"The t-shirts sales are important for folks in the community who might not have access to insurance or may have high deductibles, which may discourage them from getting routine screenings. Folks in the community can get engaged," Schevock said. "$20 for a t-shirt to help community members out that might not have access to resources like for those who can get routine screenings."
There are options for testing and colonoscopy prep, and this preventative step could save your life. Colonoscopies are done by a gastroenterologist, general surgeon, or colorectal surgeon and can be scheduled through Bayhealth. Call 302-744-6098 if you have questions or need help scheduling a screening. Bayhealth's Colorectal Cancer Screening Nurse Navigator Judy Giddens, LPN, will provide personalized guidance and assistance in taking the next steps for your screening.
Visit Bayhealth.org/Get-Screened for more information and to purchase your t-shirt in support of colorectal cancer awareness.