J BIDEN and D TRUMP vanity plates to be auctioned off in Rehoboth Beach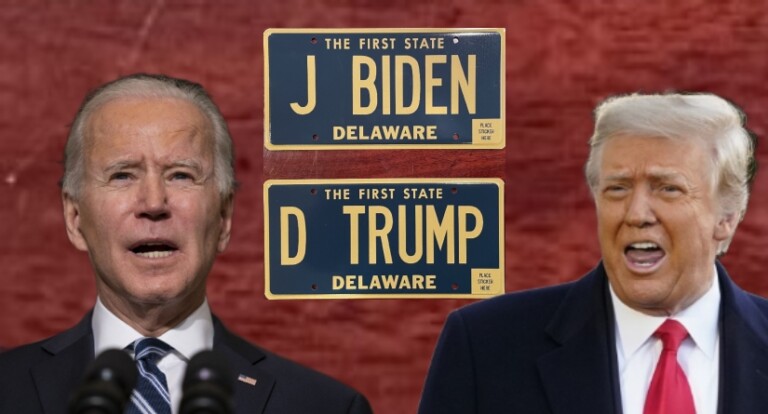 REHOBOTH BEACH, Del. – J BIDEN and D TRUMP vanity license plates will be auctioned off this Sunday in Delaware.
The 'presidential plates' are part of this Sunday's auction held by Emmert Auction Associates starting at 9:30 a.m. at the Rehoboth Beach Convention Hall, located at 229 Rehoboth Avenue, Rehoboth Beach, Delaware.
Butch Emmert, founder of Emmert Auctions, tells 47 ABC's Rob Petree that the plates have been getting a lot of attention and that they could potentially sell for thousands of dollars.
"I have J BIDEN and D TRUMP," Emmert said. "These were both consigned to me by the same guy and he had an idea that these vanity tags would be in vogue and we think they will. Whether you're a Biden fan or a Trump fan, we've got you covered! We're going to sell them separately, and we have no idea what to expect, they could bring $500 or $50,000."
Emmert says interest in the tags has grown exponentially over the past week and that there's a host of people ready to bid come Sunday.
"We really thought all of the interest in this sale would be in the 664 and 2424," Emmert said of the other tags his auction is set to sell this weekend. "But Joe Biden and Donald Trump are garnering a lot of attention as you might expect."
Anyone interested in bidding on the plates should bring a personal check and two forms of identification. You can also bid by phone if you can't attend in person by calling Emmert Auction Assoc. at 302-227-1433 ahead of the auction to reserve your spot.
47 ABC News will be sure to follow up and bring you the latest on how much the license plates sold for at auction. Stay tuned!