Milford teacher named Delaware 2023 Teacher of the Year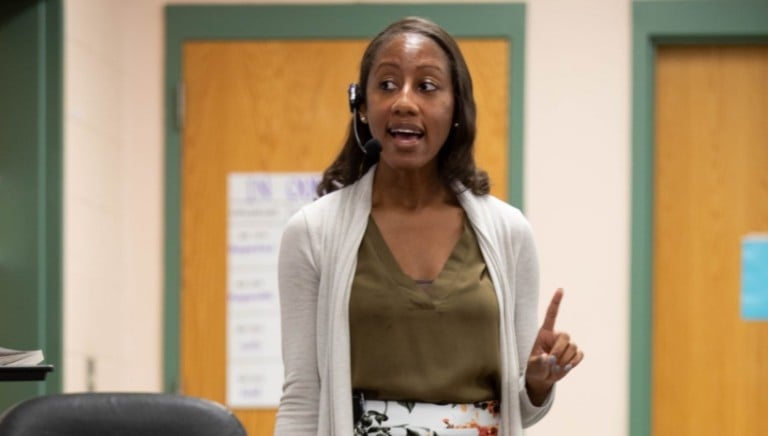 MILFORD, Del. – A fifth-grade teacher from the Milford School District is Delaware's 2023 State Teacher of the Year.
Ashley Lockwood of LuLu Ross Elementary School now is Delaware's nominee for National Teacher of the Year. She will use her position to advocate for historically underserved populations of students.
With the mindset "We repeat what we don't repair," Lockwood said our school systems collect many forms of data, but educators too often don't discuss or understand the "why" behind certain data trends.
"When we break down data by racial demographic, we see year after year that a significant number of students of color are performing below proficiency levels in both reading and math despite high attendance rates and having parental support," Lockwood said.
Lockwood started a committee in her district to bring colleagues together in this work.
"Over the course of my career, I have had the privilege of meeting and working with some of the most dedicated educators. I have learned that most of them want equitable outcomes for students of color but do not know where to begin," she said. "In the work of educational equity, the most important point to realize is that you do not have to look like your students or have the same background in order to advocate for their needs. When I started the Ethnic Minority Affairs Committee in my district, I made it clear that the committee was not going to be made up of only staff of color but of staff who teach students of color.
"We all have the responsibility to close the opportunity gap. The first step is to understand how our own biases and past experiences may show up in our classrooms. Even in our best attempts at inclusion, we must recognize implicit biases in schools do play a significant role in the outcomes of students of color," Lockwood said. "Recognizing our own biases through professional development, committee involvement, or self-study proves we are committed to removing the barriers that have kept students of color from advancing academically, socially and emotionally."
Governor John Carney made the announcement during a Dover ceremony to honor the 20 district/charter teachers of the year.
Lockwood said she reflects on a question a graduate school instructor asked: What will your impact be?
"I strive to make students feel they are accepted and not an exception," she said. "I want every teacher to think about what impact this advocacy work will have on all students. When we prioritize advocacy for students of color, we will close the opportunity gap in schools across the nation."
Colleague Michele Davis said Lockwood leads her classroom "with compassion for all yet maintains high expectations for each diverse learner she works with. Ashley's firm beliefs in rigor and consistency in maintaining the curriculum with fidelity is evident in the triumphs she has with her students.
"Ashley analyzes the content she teaches, ensuring that it is not only applicable, yet also equitable in the approach in which it is taught," Davis said.
Her principal, Cynthia McKenzie, also praised Lockwood for the relationships she builds with students and their families.
"Miss Lockwood creates a great sense of community within her classroom and with her families as well; they do not hesitate to contact her with questions and/or concerns. She makes herself available at all times, and if she is not able to provide the necessary support or resources, she reaches out to those who can assist," McKenzie said.
A nine-year classroom veteran, Lockwood earned her Bachelor of Arts in sociology from the University of Delaware and her Master of Education from Wilmington University.
Lockwood inherits from outgoing State Teacher of the Year Jahsha Tabron the responsibility of representing all teachers in Delaware. She will address community groups, business leaders, legislators, and educational organizations to inform the public about the status of Delaware schools. She also will become Delaware's candidate in the National Teacher of the Year Program, a project of the Council of Chief State School Officers sponsored by the Voya Foundation.
By action of the General Assembly, she will receive a $5,000 grant to use for the educational benefit of her students, as well as two personal grants totaling an additional $5,000. The remaining 19 school district/charter candidates each will receive a personal grant of $2,000. All 20 teachers also received gifts from Advantech Incorporated and their district superintendents or charter principal.
Lockwood also received gifts from the Office of U.S. Sen. Tom Carper, the Delaware State Education Association and Delaware State Teachers of the Year Association; State of Delaware Teacher of the Year commemorative plates from the Division of Motor Vehicles; a full doctorate program from Delaware State University, University of Delaware and Wilmington University; and a 10-karat gold ring from Jostens.
This year's celebration was sponsored by Voya Financial.