August 2020 Ranks Fifth Wettest on Record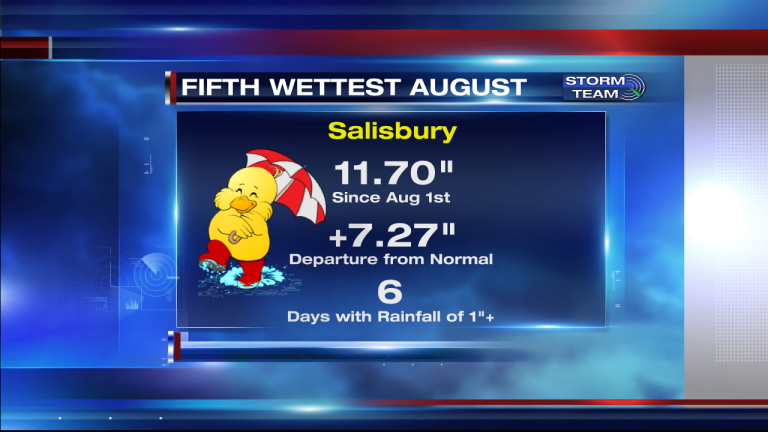 The numbers are in and 2020 continues to bring record setting weather. August 2020 is officially Salisbury's fifth wettest August on record.
Salisbury recorded an incredible 11.70″ of rain for the month. 4.43″ is the normal amount of rain expected for the month of August. Rainfall was well above average, but it's been wetter in the past. The top 5 wettest August's for Salisbury are listed below:
1.) 13.03″ in 1933
2.) 12.35″ in 1967
3.) 12.23 in 2017
4.) 11.75″ in 2011
5.) 11.70″ in 2020
One big takeaway from looking at the top five is that 3 out of the last 5 all occurred in the last 10 years. One could argue that the month of August is getting wetter and wetter, or that extreme rainfall totals are occurring more frequently.
Digging a little bit deeper into the numbers shows us that Salisbury had 6 days with rainfall totals of an inch or more, and had 10 days where rainfall totals were a half inch or more. Below is look at the August 2020 calendar for Salisbury. Each umbrella represents a day where there was some precipitation (a trace or more). As you can see, there were 18 days out of 31 with rainfall reports.
One very interesting thing to note is that not all of Delmarva had a very wet month. Most of Delmarva received ample anounts of rain in August. However, Georgetown only recorded 3.56″ of rain in August 2020, a far cry from Salisbury's 11.70″. Georgetown had a normal month in terms of rainfall and was an outlier. A lot of the rain that fell in Salisbury and other locations in August came from heavy pop-up thunderstorms. For some reason, Georgetown just didn't quite see the same amount of heavy thunderstorm activity in August.
Although Georgetown didn't see as much rain as other locations in August, I was surprised to see that Georgetown did have more recorded "rainy days." Below is a look at the August 2020 calendar for Georgetown. Notice there are more umbrellas compared to Salisbury. As you can see, there were 23 days out of 31 with rainfall reports. Although there were more rainfall reports, a lot of those reports were small amounts under 0.05″.
Although a good portion of Delmarva received a lot of rain in August which caused problematic flash flooding, luckily the rain wiped out the drought that started to form earlier this summer.