Hottest Temperatures of the Year so far Expected this Week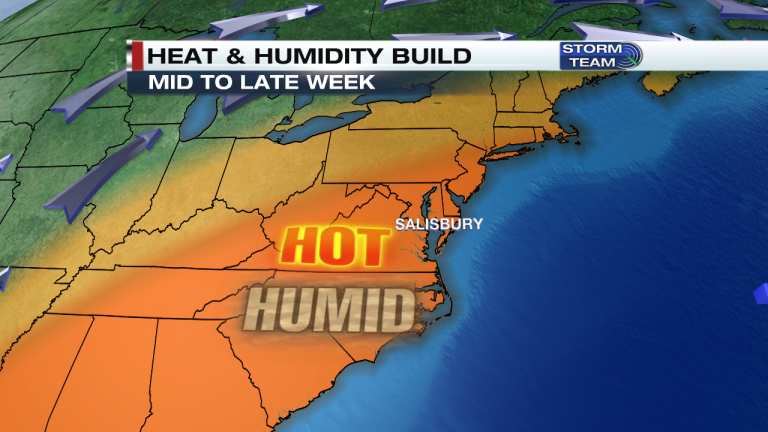 The heat and humidity will be climbing over the next several days, with the 90s returning for high temperatures starting Wednesday. We have yet to record a 90° day in Salisbury this year, so this heat will be the hottest temperatures of the year so far. An area of high pressure will continue to push off the coast, allowing for increased southwest winds. These winds will help build in that heat and humidity for the rest of the week. Even the beaches will be quite warm with highs well into the 80s, especially Wednesday.
Below is a look at the expected high temperatures for Delmarva over the next couple of days.
The other story will be the potential for afternoon and evening thunderstorms Wednesday – Saturday. Thunderstorms could develop each day as the summer-like heat and humidity really get going. There is a risk for some of these storms becoming severe with heavy rain and damaging winds. Right now, Delmarva is under a Marginal Risk (Level 1/5) for severe storms. This is the lowest risk, but things can change. Be sure to stay tuned to the 47 ABC and download the 47 ABC Weather App.
The heat and humidity will disappear by Sunday and early next week as a cold front swings through. For the latest 7-Day Forecast, check out 47abc.com/weather.