Weekend Forecast: Record Cold Temperatures Possible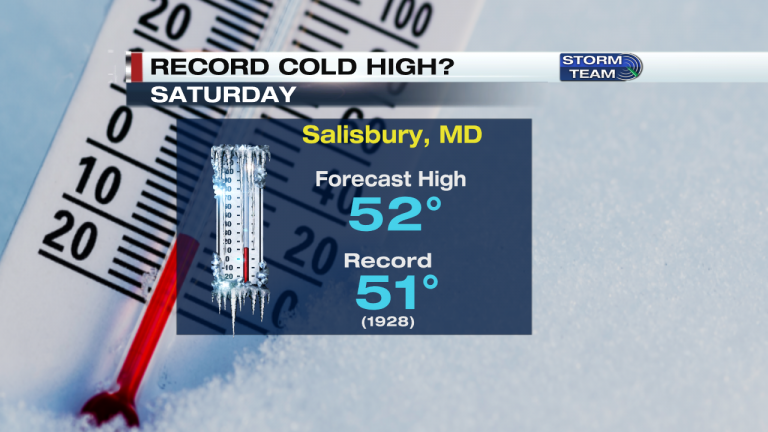 Over the past several days, conditions have been quite cool across Delmarva. The normal high temperature for this time of year is now 71°, but we've had highs in the 50s and 60s lately. Unfortunately, the cool pattern looks to continue a little bit longer.
With a strong cold front expected to push through tonight, record cold air is in the forecast. Saturday's forecast high temperature is 52°, which means we're going to come close to breaking a record cold high temperature. The previous record cold high temperature in Salisbury is 51° set back in 1928. If Saturday's high temperature stays below 51°, then we will set a brand new record in Salisbury. A record cold high temperature means that it will be the coldest high temperature ever recorded on that date.
Saturday night will get cold as low temperatures are expected to drop into the 30s. The record low temperature for Saturday night is 31°. We probably won't drop that low, but it's possible, especially if the winds go calm. Right now we're forecasting a low of 36° Saturday night.
Winds will also make it feel even colder on Saturday. Winds are expected to gust between 30-40 mph, keeping winds chills in the 40s all day. It's going to feel more like winter, so stay warm and bundle up. But don't worry, it gets nicer on Mother's Day with a lingering slight breeze. Below is your detailed weekend forecast. Enjoy!