POLICE: Traffic stop leads to discovery of crack cocaine, marijuana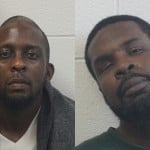 WICOMICO CO., Md. – Police say a traffic stop in Salisbury led to the arrest of two men after police found drugs in their car.
On Sunday, police pulled over a car for driving erratically on Snow Hill Road shortly before 7 p.m.
Upon making contact with the driver, Alexander Stephens and his passenger, Troy Smiley, the deputy detected the odor of raw marijuana emanating from within the car.
During a search, we're told the deputy located individually wrapped baggies that held marijuana and crack cocaine. The amount of marijuana found was also in excess of the limit for a civil violation. Also found during the search was a digital scale.
Based on the packaging and manner in which it was found, the deputy arrested both Smiley and Stephens for possession with the intent to distribute.
Both were transported to the Central Booking Unit where they were processed and taken in front of the District Court Commissioner.
Following their initial appearance, the Commissioner detained Smiley in the Detention Center without bond while setting bond for Stevens at $10,000.00.