April 2020: Windy, Wild, & Cooler than Normal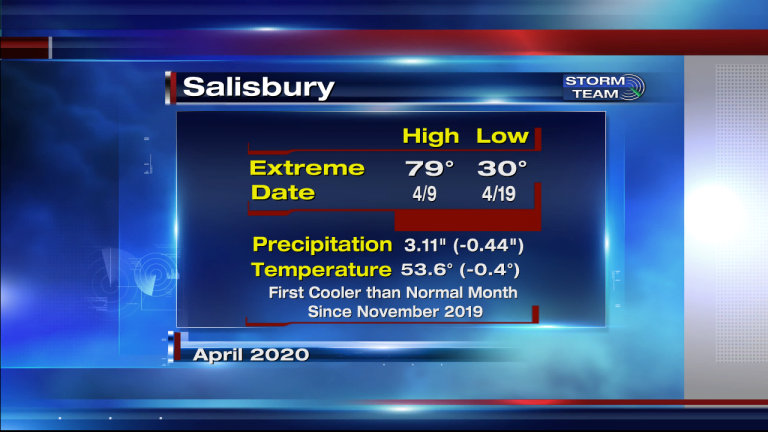 April 2020 was an interesting month. The warmest temperature recorded was only 79°, meaning no 80° days were observed. Even March 2020 had an 80° day. The coldest temperature recorded was 30° on April 19th, and there were several nights in April that dropped to freezing or below. Several frost advisories and freeze warnings were issued throughout the month, leaving some of us scrambling to protect our sensitive outdoor plants. The cold also forced us (me at least) to turn back on the heat after shutting it off in anticipation for the spring season. Not only were there some cold nights, there were some chilly days too with highs only in the 50s. Rainfall was slightly below average for the month with a little over 3 inches falling.
Wind was a problem during the month too, with two distinct wind events. Winds during these events ranged from 40-80 mph. April 13th was the strongest event where a 78 mph wind gust was recorded in Sussex county. Across the peninsula, multiple large trees were toppled over and smaller trees snapped in half. There were reports of damage to homes and businesses, and some powerlines were blown over as well. April 13th also produced one tornado, an EF-0 in Caroline county.
April 30th was the second major wind event, with the strongest gusts being between 60-70 mph. Some small trees were knocked over and minor damage done to homes.
April 2020 ended up being a wild month. It's the first month since November 2019 where the average monthly temperature wasn't above normal.