Troopers looking for teen following execution of search warrant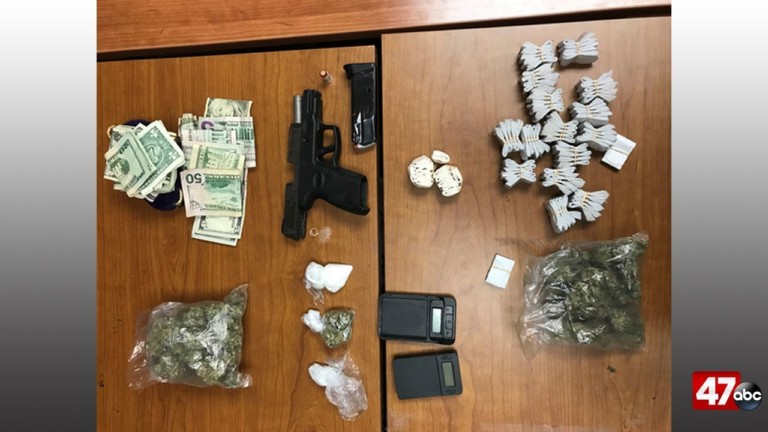 SEAFORD, Del. – A month long investigation into drug dealing has led to one man being behind bars and another man being wanted by authorities in Delaware.
According to the report, the Sussex Drug Unit (SDU) of the Delaware State Police and the Sussex Governor's Task Force (GTF) were investigating the distribution of illegal narcotics by 28-year-old Rayshawn Sheppard and 18-year-old Dajuan C. Sheppard at their home on the 24000 block of German Road in Seaford. Police say that while they were executing a search and seizure warrant at the home, they saw Rayshawn standing by his bicycle on German Road. As troopers attempted to take him into custody, Rayshawn tried to discard about 1.13 grams of powder cocaine. A search of the home led to the discovery of roughly 8.19 grams of heroin in 1170 bags, 11.28 grams of cocaine, 94.89 grams of marijuana, over $1,300 in suspected drug proceeds, drug paraphernalia, and a .40 caliber Taurus handgun loaded with five rounds that was reported stolen.
Police were unable to find Dajuan Sheppard, who is currently wanted for possession with the intent to deliver a controlled substance. Anyone with information about Dajuan's location is asked to call Troop 4 at (302)856-5850 or Delaware Crime Stoppers at 1-800-TIP-3333. They can also submit tips anonymously here.
Rayshawn, who is prohibited from possessing a gun or ammunition, was taken back to Troop 4 and charged with the following:
Possession with intent to deliver a controlled substance in a Tier 4 quantity
Possession of a controlled substance in a Tier 5 quantity
Possession with intent to deliver a controlled substance in a Tier 2 quantity
Possession of a Firearm or Ammunition by a Person Prohibited Prior Violent Crime or Felony (2 counts)
Possession with intent to deliver a controlled substance (2 counts)
Receiving a Stolen Firearm
Attempted to Commit Tampering With Physical Evidence
Possession of Drug Paraphernalia
He was arraigned before the Justice of the Peace Court and committed to the Sussex Correctional Institution on $71,600.00 secured bond