Delmarva Idol Search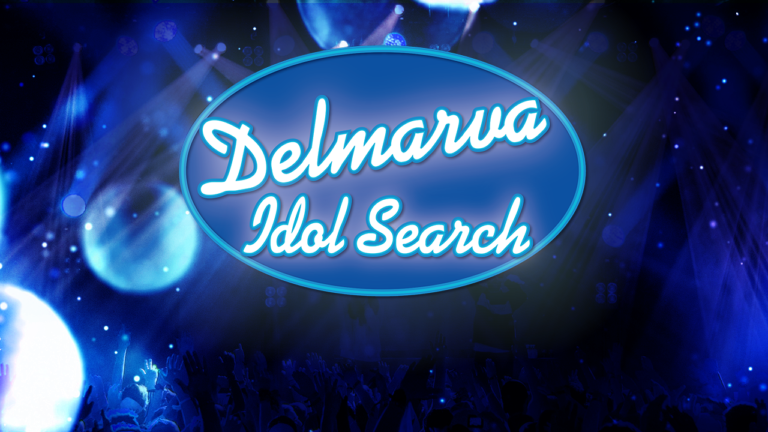 Delmarva Idol  Search on Thursday, October 3rd, 2019 at University of MD Eastern Shore in Princess Anne, MD.  To be held at the Ella Fitzgerald Performing Arts Center.
Contest starts at 7pm with FREE Admission – no ticket necessary.
Winner receives a Silver Ticket to audition at an American Idol Judge City with an American Idol Exectutive Producer in October.
---
DELMARVA IDOL SEARCH 2019
Official Rules
NO PURCHASE NECESSARY. Void where prohibited. By entering, each entrant accepts and agrees to be bound by these Official Rules. Failure to comply with these rules may result in disqualification.
SPONSOR. This Contest is sponsored by WMDT 47 ABC, 202 Downtown Plaza, Salisbury, MD 21801 (the "Sponsor"), stations of Marquee Broadcasting and the University of Maryland Eastern Shore, which is responsible for the conduct of this Contest. By participating in this Contest, all participants (including the prize winner) agree that Sponsor, its prize providers, subsidiaries and affiliates, and each of such entities' respective officers, directors, agents and employees are not responsible or liable for any injury, loss, illness, litigation or damage that may occur from participation in the Contest or acceptance, possession, use or misuse of prizes. In the event that any dispute arises in connection with the conduct of this Contest, participants agree that the dispute shall be resolved by binding arbitration. Delmarva Idol Search is not an official audition for American Idol.
ENTRY.  A purchase is not required to enter or win the prize described below. Entries must be submitted between September 18, 2019 at 10:00 AM ET and September 26, 2019 at 10am.ET (the "Entry Period") unless extended by Sponsor in Sponsor's sole discretion. To enter the Contest, entrants must submit a video that features the entrant singing without accompaniment. The video, which shall be no longer than one minute, must be posted to a video sharing website (i.e., YouTube, Vimeo). Once the video is posted online, entrants must log on to www.wmdt.com, complete an online registration form, including a link to their video. All videos must be set to "public" for viewing. No password-protected videos will be accepted. All videos must comply with the guidelines set forth by Sponsor to be eligible. If contestant is a minor, a parent or legal guardian must complete the contestant registration form and include his/her name, mailing address, contact phone number, date of birth and online signature for minor submission to be eligible for consideration. Only one (1) entry per person will be accepted. Each entry will be deemed to have been submitted by the single individual who completes the registration form, and only that individual (or, with respect to minors, the individual on whose behalf the registration form was submitted) will be eligible to win any prize for such entry.
By entering, entrant hereby grants Sponsor, along with its affiliates, successors, and assigns, a perpetual, irrevocable, non-exclusive, worldwide, royalty-free, unrestricted right and license, with the right to sublicense through multiple tiers, to use entrant's submission (including any portion(s) thereof) in any medium, including without limitation on any and all Sponsor broadcast, cable, and/or digital platforms, without any obligation of payment, acknowledgement or other consideration of any kind, and without the need to obtain permission from or provide notification to the entrant or any third party. Sponsor will have no obligation to republish or use any submission, and any submission republished or posted may be removed by Sponsor at any time, for any reason.
Sponsor is not responsible for lost, late, illegible, misdirected or mutilated entries, due to technical/network failures, human error, or any other error or malfunction. Entry materials that have been tampered with or altered are void.
Entrants agree not to upload, post or transmit any materials which contain any computer viruses, Easter eggs, worms, Trojan Horses or other harmful component or programming routines that are intended to damage, detrimentally interfere with, surreptitiously intercept or expropriate any system, data or personal information. Any attempt to deliberately damage any website or undermine the operation of the Contest is a violation of criminal and civil laws, and the Sponsor reserves the rights to seek damages from any person(s) who makes such attempt(s).
Any questions regarding the number of entries submitted by an individual or authorized account holder of an e-mail address shall be determined by WMDT 47ABC in its sole discretion, and WMDT 47ABC reserves the right to disqualify any entries by persons determined to be tampering with or abusing any aspect of the Contest.
ELIGIBILITY. The Contest is open to all legal residents who live in the Salisbury Designated Market Area as defined by Nielsen Media Research and must be 15 – 28 years old, born between June 2, 1990 and June 1, 2004. If you were born before or after this window, you are not eligible to participate this season. College students may apply as long as they attend a college in the Salisbury DMA.
Employees of Marquee Broadcasting, their advertising agencies, consultants, franchisees, or suppliers (collectively, "Contest Parties") are not eligible to enter or win, nor are such employees' family members.
PRIZES. Up to twenty-five (25) entrants will be selected as Finalists to compete for one (1) Silver Ticket Prize. The Silver Ticket Prize consists of a Silver Ticket pass entitling the winner to audition in Washington DC from October 13, 2019 – October 15, 2019. (2 nights, 3 days) during the American Idol Judging City Event. Travel and lodging will be provided for the Silver Ticket winner and guest by Sponsor. Prize package includes 2 night hotel in Washington DC and transportation to and from the Salisbury area. Prize package is valued at $2,600.
Submissions may also be showcased on the air on WMDT, and on the WMDT.COM website in Sponsor's sole discretion. All judgments by Sponsor are final.
CONTEST JUDGING CRITERIA. Once the online entry period has been closed, a panel made up of  3 judges (the "Selection Panel") will select up to twenty-five (25) Finalists to move on to the next round of auditions. During this round of auditions these Finalists will perform one song in front of three (3) judges and a live audience on Thursday, October 3, 2019 at University of Maryland Eastern Shore Ella Fitzgerald Performing Arts Center in Princess Anne, Maryland. Finalists will be permitted to use a guitar for the in-person auditions. Out of the Finalist auditions, three (3) Judges will award the Grand Prize consisting of one (1) Silver Ticket Prize. Both online entries and live auditions will be judged based on the quality of vocal performance, overall style and presentation, and the submission's conformance to these Official Rules (including without limitation the one-minute time limit and the eligibility requirements), and the submission's suitability for broadcast. A selected contestant who is a minor attending the Delmarva Idol Search audition must have a parent or legal guardian present with them throughout the audition process on October 3, 2019. The parent or guardian accompanying the minor must be listed as such on the original online entry form.
Without limiting the foregoing, submissions may not contain any material that is obscene, indecent, profane, defamatory, or that infringes any party's privacy, intellectual property, or other rights.
Finalists will be notified on or around October September 27, 2019. Finalists will be first notified via the email address on their entry, followed up by a phone call to the phone number listed on their entry. The finalists will be scheduled to sing in front of a panel of Judges on Thursday, October 3, 2019 at University of Maryland Eastern Shore beginning at 7:00 PM ET. If the Finalist is unable to attend on Thursday, October 3, 2019 or does not arrive at assigned time, the Finalist will forego their eligibility.
PRIZE RESTRICTIONS & CONDITIONS. Prize winner must abide by the terms and conditions of the Prize providers and Contest Parties. No prize transfer, assignment, or substitution by Prize winner is permitted. All income and other taxes are the responsibility of the winner. By entering, the entrants, finalists and winner are consenting to the use of their video submission, name, likeness, and/or biographical information for advertising and promotional purposes without additional consideration, including any in studio appearances or on the air of any other television stations or on any Sponsor-owned or -affiliated website.
Delmarva Idol Search contest registrations, audition upload and contest participation is for WMDT 47ABC, Marquee Broadcasting (and its partners) and is not an audition for the official American Idol.
Delmarva Idol Search contestants can also register to audition for the official American Idol through the American Idol website, which can be accessed online at www.abc.go.com/shows/american-idol.
The Silver Ticket Prize winner's subsequent audition for American Idol is subject to the American Idol Audition Terms & Conditions. American Idol Audition Terms & Conditions are available here at www.abc.go.com/shows/american-idol
In the event production of American Idol is cancelled or postponed, the prizing may be cancelled without substitution or compensation therefor.
DISCLAIMER OF LIABILITY. Winner is responsible for income and other taxes on any Prize. Winner will be required to sign and return an Affidavit of Eligibility, Release of Liability, Publicity Release and Letter of Indemnification within seven (7) business days of notification of being a winner. Failure to comply with the rules and conditions of the Contest may result in a forfeiture of the prize.
Should the Silver Ticket Prize winners make it to the American Idol judge round, whether they see the actual celebrity judges or not, they will be required to sign and submit the American Idol audition paperwork before they can be seen by the Executive Producers.
SPONSOR'S RESERVATION OF RIGHTS. These Official Rules are subject to modification by Sponsor. In the event of a dispute, all decisions made by Sponsor are final and binding. Sponsor reserves the right, in its sole discretion, to disqualify any person who tampers with or abuses the entry process, or who otherwise acts in violation of these Official Rules. Sponsor further reserves the right, in its sole discretion, to cancel, terminate, or modify this Contest if, for any reason, the Contest is not capable of completion as planned, including due to force majeure or non-authorized human intervention that compromises or affects the administration, fairness, integrity, or proper conduct of the Contest.
PRIVACY POLICY/DISCLOSURES OF INFORMATION. Sponsor may collect and use personal information that entrants provide to enter the Contest to actually conduct the Contest and contact the potential finalists and winner. Personal information includes any information that can be tracked back to a specific individual, including name, postal address, and telephone number. As noted above, Sponsor (including any successors or assigns) may use all entrants' video submissions, names, likenesses, and/or biographical information for advertising and promotional purposes without additional consideration. Otherwise, no personal information that Sponsor collects in connection with the administration of the Contest will be sold or given to anyone who may contact entrants for any purpose not related to the Contest.
MISCELLANEOUS. This Contest is void where prohibited, penalized or otherwise restricted by law. A copy of these Official Rules is available at the WMDT 47ABC offices, or by writing to WMDT 47ABC, 202 Downtown Plaza, Salisbury, MD 21801. Viewers can also find the Official Rules at WMDT.COM.  If you wish to receive the names of Contest Prize Winner, you must send a self-addressed, stamped envelope to WMDT 47ABC 'Delmarva Idol Search Winner 202 Downtown Plaza, Salisbury, MD 21801. WMDT 47ABC must receive any request for the Winner's name no later than December 1, 2019.