Longest Heat Wave Since 2013 Ends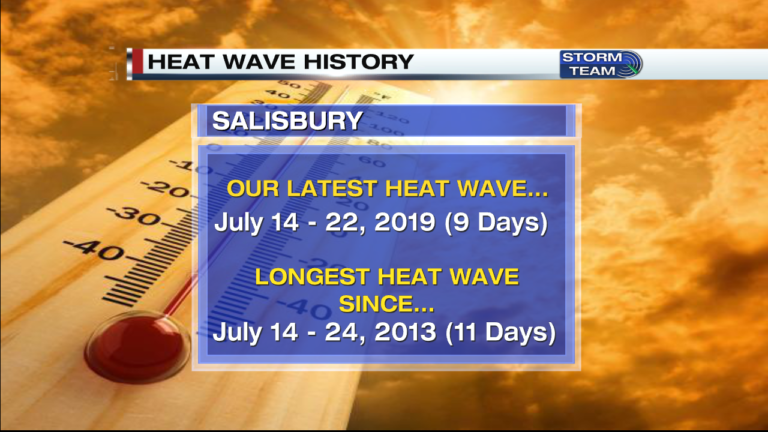 So far this summer, Demarva has had three separate heat waves, each one getting longer and hotter.
Salisbury's most recent heat wave just ended, and it was a doozy. It lasted nine days, starting on July 14th and ending on July 22nd. It was Salisbury's longest heat wave since 2013, which lasted 11 days. This heat wave was even longer for Georgetown, lasting 13 days, starting on July 10th and ending on July 22nd.
The hottest temperature during this most recent heat wave in Salisbury was 97° on the 17th and again on the 21st. On both of those two days, Georgetown ended up hitting 100°, the first time since 2012. The high of 100° on July 17th was a record high for Georgetown. Even Ocean City hit 100° during the heat wave. The coolest day during the nine day stretch of hot weather was on July 15th when Salisbury was 90°. The coolest day in Georgetown was also 90°, occurring on the 10th and 13th. The average high temperature during the heat wave was 94.4° in Salisbury and 94.9° in Georgetown. While some record highs were reached, record warm low temperatures were achieved as well. Salisbury and Georgetown both dropped to a warm low of 80° on July 21st.
While we're expecting a nice break from the extreme heat this week, another heat wave looks likely as we head into next week, possibly starting on the 28th or 29th. Stay tuned.