Central cruises past Smyrna for 4th straight win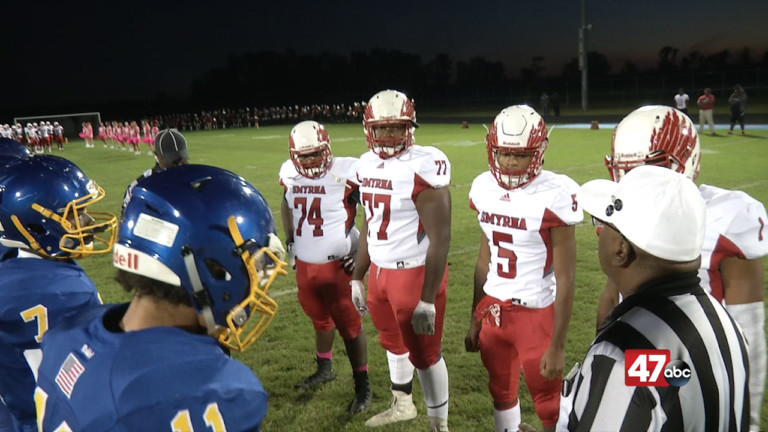 GEORGETOWN, Del.- The Sussex Central Golden Knights defeated the Smyrna Eagles 31-12 last night to take control of the Henlopen North. With the win, the Knights move to 5-1 and the loss drops the Eagles to 2-3.
In a matchup of two of the hottest teams in Delaware, Central vs Smyrna looked to be a top 5 matchup. It was all Central early, the Knight would take their opening drive 64 yards capping it off with a TyJhir Sheppard-Parker 17 yard score. On their next drive QB Isaac Barnes would hit a wide open Javon Toppin for the 54 yard score to put the Knights up 14-0 at half.
Smyrna was held to just 19 plays and just one first down in the first half.
In the second half, Smyrna would force a 3 & out and march right down the field and get a five yard touchdown run from Stephen Whaley. The two point conversion would be no good so the score early in the second would stand at 14-6.
Next offensive possession for the Knights would see Barnes toss his second touchdown of the game, a 65 yard bomb to Dominique Smith to give Central the two score lead again.
Possibly the player of the game, Isaac Barnes would get things down on both sides of the ball. Next Smyrna drive, Barnes coming off the edge hits Running Back Whaley on the halfback pass forcing an interception by Kasim Lewis who takes it 36 yards to the house, Central up 21-6.
Smyrna still fighting, would take their next drive down the field and cap it off with a 10 yard fade from Aidan Sanchez to Makhi Jackson but with the failed 2 point conversion the score would remain 28-12 with just over 8 minutes left to play.
The stingy Central defense would shut out the Eagles offense the rest of the game, holding them to their lowest point total since week one of 2014. With under 2 minutes to play, Isaiah Barnes would get his 4th of the year sealing the game for Central. The Knights would tack on a file goal with under 5 left to play as the Golden Knights defeat the Eagles 31-12 handing them their first division loss since week 3 of 2014.
Central will look to continue their dominance next Friday at 7 when they travel to Woodside to take on Polytech. Smyrna looking to get back in the win column when they host Dover on their Homecoming next Friday at 7.