Unsolved: The Murder of Douglas Kimball
An Unsolved Murder Investigation Is Highlighted By Police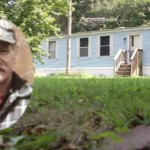 KENT COUNTY, Del.  – Douglas Kimball lost his life inside his Felton, DE home back on September 6, 2015. To this day despite the best efforts of the Delaware State Police the crime remains unsolved.
"This is not something that occurs in Felton," said Master Cpl. Melissa Jaffe of the Delaware State Police.
At the time of his death Doug was 48 years old. He lived a simple life and was always finding unique ways to use his hands and help others.
"Mr. Kimball was a hard worker, he worked a lot, neighbors never had any issues with him. He was always a nice neighbor, hard-working man and kept to himself," said Master Cpl. Jaffe.
In fact a friend told investigators that Doug was helping him with a project just hours before his life was taken and that same friend was the one who found Doug slumped over, dead in front of the television.
"When 9 o'clock came around and he wasn't here, he thought maybe he had slept in until later than normal, but then when he drove by there and saw his truck, he realized that something wasn't right," said Master Cpl. Jaffe.
Kimball's death was ruled a homicide and from that point on his home along Cabin Ridge Road was a crime scene. But who exactly shot and killed Doug? Despite everything they've learned about the case and his life investigators haven't been able to answer the most important question.
"We have interviewed countless neighbors, friends, acquaintances – up to over 25 people and we are getting the same information," said Master Cpl. Jaffe.
To learn more about this case watch the video above and share this story so that the message can be shared with the community.