Local kids helping a family in need, one lemonade at a time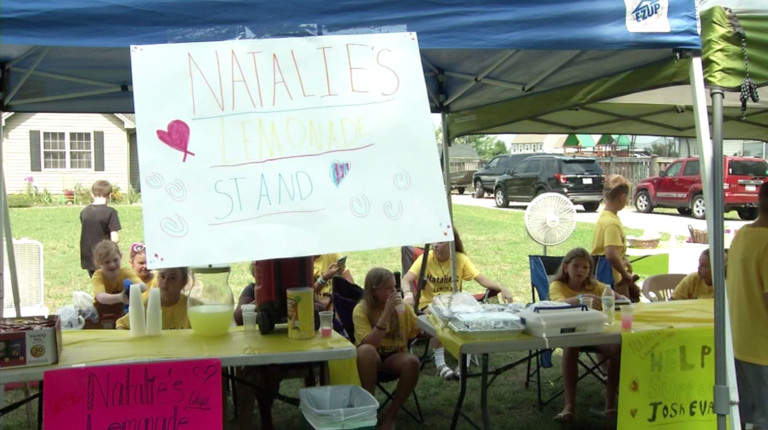 Natalie's Lemonade Stand is back and they're serving up more than just a refreshing glass of lemonade.
"We are trying to raise money for a guy who just got into a very serious car accident and is in the hospital. We're trying to raise money to support him and his family," explains 11-year-old Riley Krater, co-founder of Natalie's Lemonade Stand.
These kids are hoping to sell as many cups of delicious lemonade and homemade sweets possible and it's all for the Evans family.
Jennifer Evans says, "Josh was in a really bad car accident two weeks ago on his way to work. He's probably not going to be able to work for a really long time, he has a really long road of recovery ahead of him."
That's why the kids from a Mardela Springs neighborhood are pitching in going back to what they know best, making lemonade.
It's all in an effort to help alleviate some of the burden the Evans are facing now and down the road, by doing what they did for the Insley family two years ago when they lost their 17-year-old daughter Natalie.
Natalie's cousin Alexis Dunning says, "That's what's so amazing to me. Like I said Natalie was just someone who always helped others. She was so caring and she could take a negative situation and make it positive and that's what I feel like this stand does. And just the fact it's in Natalie's name carrying on her legacy is amazing."
And since they opened up shop Monday the community is already coming out in numbers ready to do their part to help out.
One customer tells 47 ABC, "It feels good to be able to give back in some way or another. We all go through tough times in our lives and it's nice to be able to lean on our community and our friends for support and help out."
"It's like amazing how people, how our neighbors are so committed to all of this," adds Krater.

Making the long road to recovery for Josh and the rest of the Evans family a little sweeter.
"It's really humbling and eye opening that, you know, it just makes Delmarva feel so small that everybody is just willing to come together, especially children. Like the community in general have been awesome but the fact that people are raising kids like this is amazing," adds Evans.
Now the kids will be back in action on Tuesday from 9 a.m. to 5 p.m. at the same location 9874 Norris Twilley Road in Mardela Springs. You can also help out the Evans family through their GoFundMe page.