Thousands stand in pouring rain to watch 93rd annual Chincoteague Pony Swim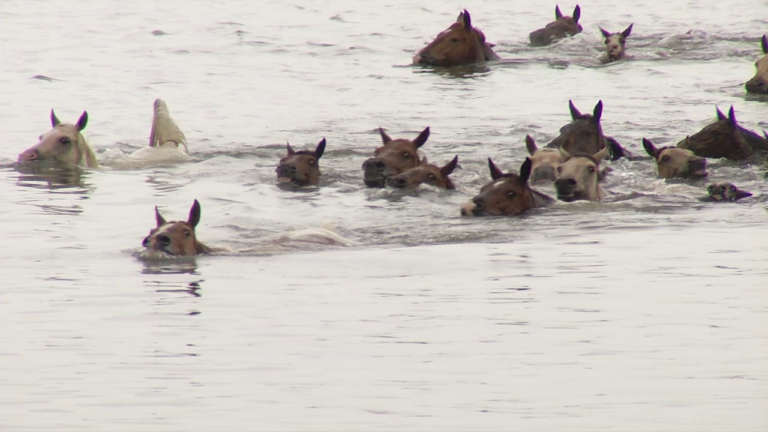 Thousands of people stood in the pouring rain on Wednesday just to get a glimpse of the 93rd annual Chincoteague Pony Swim.
The annual swim begins at the channel separating Assateague Island from Chincoteague Island.
The ponies are herded off of Assateague and into the water by the Salt Water Cowboys at "slack tide", a period when there is no current, making it easier for the ponies to swim.
Once the ponies make it to Chincoteague, they are allowed to rest and recover from their swim, and people are able to stand almost an arms length away from the beloved animals.
Denise Bowden, a spokeswoman with the Chincoteague Volunteer Fire Company and an organizer of the swim said, "We'll rest them for about 45 minutes and then we're going to take them down to the carnival grounds and then you know, hopefully the rain is going to hold off for just a little while longer for us to get that done."
Despite the rainy start Wednesday morning, first timers and die hard pony fans were still in attendance.
Bowden said, "Weather wise, it's not been great but look around, I mean, the people are here and they're die hards, what I call pony power."
Aimee Lauer, an attendee said, "I think if you're here to see the ponies, you're here to see the ponies and you just got to accept that you're going to get a little wet."
Debra Evalds, another attendee added, "The weather has been wet but we're well equipped so, we're doing okay!"
After the ponies rested for 45 minutes following their swim, it was time for the Salt Water Cowboys to round them up and parade them through town.
After almost an hour, the Chincoteague ponies, wet from all the rain, arrived at their final destination of the day, the carnival grounds.
Lauer said, "There are a lot of people here now, and there will be people at the auction [on Thursday]."
The auction will take place at 8am Thursday morning.
The annual pony swim and auction do more than just provide entertainment, they serve as a fundraiser for the Chincoteague Volunteer Fire company.
Chincoteague's residents do not pay a fire tax, and while every town in the county still gets some money for their fire companies, we're told it's not enough to buy things like 500,000 dollar fire trucks or 200,000 dollar ambulances that they need.
That's why having the pony swim and auction is so crucial because they help raise money for important things like this.
On top of those two events, they also hold a carnival which is largely volunteer run that helps raise money for the fire department as well.
Evelyn Shotwell with the Chincoteague Chamber of Commerce said, "Everyone running the carnival is volunteers. Not all of them are fireman. A lot of them are just people that work in the community and live in the community and they're just there to help because they love the fire company and it's for a good cause, so they're just giving back because the fire company gives so much to the community."
If you would like to visit the carnival and help the cause, it is open every day this week from 7AM to 11PM, except Sunday.