Tull named Salisbury Fire Chief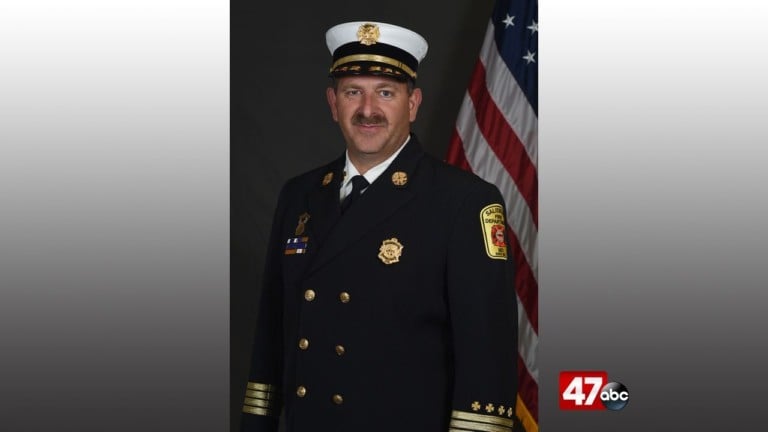 A lifelong Salisbury resident, and Wicomico High School alumnus, has been named to the top position in Salisbury's Fire Department
Mayor Jake Day has announced that current Deputy Fire Chief John W. Tull has been named as Salisbury's next Fire Chief. Tull is replacing outgoing Chief Rick Hoppes, who is retiring after 33 years of service to the Department. Tull's selection comes after a three-week hiring process as the committee interviewed several candidates from around the country.
Deputy Chief Tull has lived in Salisbury his whole life and graduated from Wicomico High School in 1990. Tull earned his Associate of Applied Science in Emergency Medical Services from Wor-Wic Community College and his Bachelor of Science in Fire Science, Summa Cum Laude, from Columbia Southern University.
Tull has been a member of the Salisbury Fire Department his entire career, beginning as a volunteer Firefighter/EMT, and working his way up. He has previously been the Engine Lieutenant, Training Captain, Engine Captain, Assistant Fire Chief, and, currently, Deputy Fire Chief. He is also an Emergency Services Instructor for the University of Maryland Fire and Rescue Institute,
The new fire chief is both Maryland and Nationally-Certified as a Fire Fighter II, Fire Officer IV, Registered Paramedic, and Fire Instructor III. In addition he is Maryland and Nationally-Certified in multiple Special Operations disciplines including Hazardous Materials Technician, Confined Space Rescue Technician, Trench Rescue Technician, and Rope Rescue Technician. Tull is also a recognized member of the National Fire Service Staff and Command.
"Deputy Chief Tull has been a tremendous asset to us for a long, long time now," said Mayor Day. "I have no doubt that he will serve our citizens in his new role as he has always served them – selflessly, and with honor. It is my pleasure to announce John Tull as the City's new Fire Chief."
In response to his appointment Tull said, "I am humbled by this opportunity to serve as the next Chief of the Salisbury Fire Department; it is truly an honor beyond measure. I am excited to start this new chapter, working with the tremendous men and women within the department to continue providing the highest possible level of public safety to our community."
A recipient of the State of Maryland Governor's Citation & Senate Resolution and the Maryland Star of Life Award, Tull lives in Salisbury with his wife Beverly and his two children, Justin and Natalie.